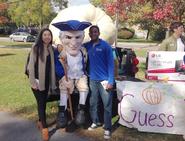 This Fallcoming Weekend, the Micro-Finance Club raised more than $1000 via the first-ever Giant Pumpkin Challenge fundraiser. The eye-catching 1524.5 pound pumpkin outside of Sadove Student Center caught the attention of many including the several news crews including ABC-affiliate WUTR, NBC-affiliate WKTV and the Observer-Dispatch, Utica's daily newspaper.
The overwhelming question was "what is this giant pumpkin doing here?" For one dollar, people could guess the weight of the pumpkin and win a 32" flat screen TV. More importantly, all proceeds from this fundraiser will go towards providing small business loans to local entrepreneurs.
Congratulations go to first- and second-prize winners, Jeremy Lowe '15 and Eleni Neyland '18, respectively. Special thanks go to one of the club's executive board members, Russ DeGrazia '15, and his family for growing, transporting and donating the pumpkin.
The Micro-Finance Club is a student-run, micro-lending organization that seeks to increase economic growth and opportunity in the Greater Utica area by providing small business loans to individuals who might not qualify for a traditional bank loan. Through the use of loans rather than grants, this organization helps entrepreneurs establish their own credit histories and borrowing power. To learn more, please contact micro@hamilton.edu.