Middle States Commission Reaccredits Hamilton
---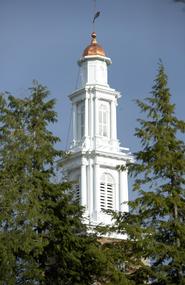 The Middle States Commission on Higher Education has voted to "reaffirm accreditation" of Hamilton College and to "commend the institution for the quality of the self-study report."

No follow-up is required by the college until its next Periodic Review Report is due on June 1, 2016. In its report to Hamilton, the evaluation team wrote:

"We found a College that is clear about and unified around its mission. We commend Hamilton for the strong and supportive learning environment that it provides for its students. Given the high level of student satisfaction with their educational experience, it is perhaps not surprising that Hamilton has a strong record of alumni support. The Visiting Team commends Hamilton for its excellence in financial planning, for its strength in the area of institutional assessment, and for their strong focus on goal-setting and achievement which is modeled well by the President and members of the Senior Staff."

"Hamilton is grateful to the Middle States Commission and to Gettysburg President Janet Riggs and her visiting team for the thorough review and reaffirmation of the educational program we offer students," said President Joan Hinde Stewart. "This independent endorsement of a Hamilton education is gratifying, especially now when America's colleges and universities are being asked to demonstrate the value they provide students."
Hamilton began planning two and a half years ago for the self-study that is mandated as part of the reaccreditation that the college undergoes every 10 years. Vice President for Academic Affairs and Dean of Faculty Patrick Reynolds and Assistant Dean of Faculty for Institutional Research Gordon Hewitt led Hamilton's effort and worked with about 70 individuals to complete the self-study that was the main element in the review. Reynolds was pleased with the results.
"This accreditation statement is the best possible outcome from Middle States," Reynolds said. "The absence of required progress reports or obligatory recommendations for change is infrequent. While we will implement over the next few years the many suggestions for improvement contained in the visiting team's report, the strength of this reaffirmation is a testament to the current strength of the college."

As part of each evaluation, a Middle States visiting team assesses the following 14 accreditation standards:

1. Mission and Goals
2. Planning, Resource Allocation and Institutional Renewal
3. Institutional Resources
4. Leadership and Governance
5. Administration
6. Integrity
7. Institutional Assessment
8. Student Admissions and Retention
9. Student Support Services
10. Faculty
11. Educational Offerings
12. General Education
13. Related Educational Activities
14. Assessment of Student Learning
In addition, the college being reviewed can identify several areas for special focus. Hamilton chose its open curriculum, resource management and its efforts to further diversify the campus.

For each standard, the Middle States visiting team that evaluated Hamilton summarized its findings, noting Hamilton's significant accomplishments in each area and listing its "non-binding findings for improvement." In most cases the findings were those recommended by the college in its self-study, and in several instances Hamilton has already acted on those recommendations.
For example, the team suggested that "Hamilton move quickly to complete the process of identifying institutional and departmental learning goals," and in May, one month after the visiting team was on campus, the faculty voted to approve a statement of educational goals.

Stewart said the visiting team also expressed support for Hamilton's new policy in admission. "They were impressed by our need-blind admission policy," Stewart said, "and even more impressed when they learned that we adopted it, fundamentally, because it was the right thing to do, for Hamilton and for the world. This decision is a defining element in the way the higher education community views Hamilton.
"I extend my gratitude to all who participated in the process," Stewart continued, "and in particular to our steering committee, to the various working committees, to all those who spoke with the visiting team during the site visit in April, and above all to Gordon Hewitt and Pat Reynolds for the immense amount of thoughtful hard work that they have done over the past two and a half years, since our decennial reaccreditation process began. The visiting team commended the 'transparent process' in which our college engaged, commenting that we at Hamilton are 'true to ourselves.'"
About Middle States (from: www.msche.org/)
The Middle States Commission on Higher Education is the unit of the Middle States Association of Colleges and Schools that accredits degree-granting colleges and universities in the Middle States region, which includes Delaware, the District of Columbia, Maryland, New Jersey, New York, Pennsylvania, Puerto Rico, the U.S. Virgin Islands, and several locations internationally.
The Commission is a voluntary, non-governmental, membership association that defines, maintains, and promotes educational excellence across institutions with diverse missions, student populations, and resources. It examines each institution as a whole, rather than specific programs within institutions.