Mihai Dohotaru '13 explores his career options through job shadowing
---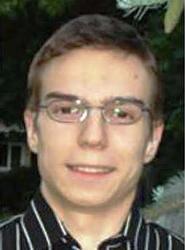 Have you ever thought about what you would like to do after you leave Hamilton? I know it's hard to even contemplate about leaving when you're having such a great time here, but time flies when you're having fun (How's that for a cliché?). Whether you have always aspired to become a doctor, lawyer, or you have no idea what you want to use your talents for after you graduate, Hamilton offers the program that allows you to experience first-hand in the career you're most excited about in one day.

Here are just a few moments from the day that would launch my career:

7:00 AM: It was a sunny and relaxed morning arriving at the beautiful Bank of America Tower (my first time entering a corporate building). Soon enough though, my level of energy skyrockets as I find myself listening to very intelligent investment analysts broadcasting market updates and observe salesmen and traders interacting with investors.

10:00 AM: Take part in meetings with global research executives and learn about the culture and work environment at Bank of America Merrill Lynch. Personal interaction with these accomplished people is an invaluable experience. I cherish the advice they have given me and do my best to incorporate it in my professional career.

11:30 AM – 1:30 PM: Have the opportunity of sitting in on televised meetings with investors, in which research associates present their findings. Get to know the responsibilities of such a profession by interacting with the young people working there.

At the end of the day I was elated: I had learned so much in a single day and explored a wide range of interesting professions in finance. I felt more ready than ever to engage in an informed dialogue about my interests and passions with someone in the industry. Two weeks later I got a call from Bank of America to find out that I've obtained an internship with their research group as part of the NYC program. Wow!

The most valuable lesson I learned is that being passionate about what you want to do and showing a desire to explore your potential career interests will not go unnoticed. The HamiltonExplore program enables you to meet people with similar ambitions and goals and learn more in a day than by reading dozens of career guides. And who knows, one day you might end up working with some of the very people you met through this program.