Milestones: What, when, where and how?
---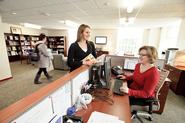 You may be thinking that the Career Center is only for seniors looking for jobs or for those who already know what they want to do for a career. Nothing could be further from the truth! We want to help ALL Hamilton students as they navigate the road to career success. The Career Center will guide you through the four most important career-related "milestones" to help you prepare for your future while still at Hamilton.

Milestone 1: Get Your RESUME done during your first year... a resume serves as the core of your application for campus jobs, internships and full-time employment.

Milestone 2: Obtain two Career-related experiences... an internship helps you explore your career interests and makes you a competitive candidate for your first job. Get your first experience in your sophomore year and the second during junior year.

Milestone 3: Gain NETWORKING experience during your junior year... many internships and most jobs are found through networking.

Milestone 4: Learn to INTERVIEW by the beginning of your senior year... being able to convince an employer that you are the best person for the job is crucial for your success.

The Career Center has all of the resources and support to help you meet these milestones. Visit our website to get started.