Miller '12 Targets Human Rights Violations
---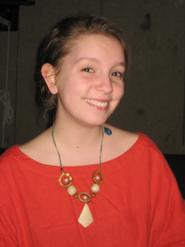 Human rights violations infringe upon the basic, international rights that everybody should have. Sara Miller '12 is spending the summer as a fighting discrimination intern at Human Rights First. Her efforts are focused on human rights violations in Uganda, and specifically she is helping to target the Ugandan Anti-Homosexuality Bill. Her internship is supported by a Summer 2011 Levitt Public Service Internship Grant.
Human Rights First is a nonprofit organization that promotes human rights and rule of law around the world. The organization works through various programs to address human rights violations and influence legislation to support internationally-recognized human rights standards.
The Fighting Discrimination program combats discriminatory practices and hate crimes, mostly in the U.S. and throughout member states of the Organization for Security and Co-operation in Europe (OSCE). Fighting Discrimination also has begun expanding to other countries; the program is working in Uganda to fight their Anti-Homosexuality Bill and in South Africa to help oppose the xenophobic violence there.
In a recent blog post to the Human Rights First website, Miller wrote about a Ugandan bill that would severely worsen prosecution for gay, lesbian, bisexual, transgender and intersex individuals and those who support their rights. Though the bill was shelved during the last session of Parliament, it is still widely talked about and debated. Meanwhile, the country faces malnutrition and poverty among its youth. Ironically, the bill is being promoted with the slogan "protect our children" from "recruitment" into homosexuality. Some officials attempt to portray this recruitment as a problem so rampant that it eclipses the hunger and poverty to which many Ugandan children are still exposed.
In addition to writing blogs she's also doing research on human rights violations in Uganda and writing a report of her findings. This will supplement a piece that Human Rights First is writing about the Anti-Homosexuality Bill. Recently, she finished a project that consisted of updating Human Rights First "Report Cards" for all the OSCE member states, which outline each country's hate crime legislation. Miller also updates the organization's Twitter feed with recent hate crime cases.
Having spent three months in Uganda during the fall semester, Miller, a world politics major with a concentration in Africa, felt that she could no longer accept the Ugandan government's lies to the public. She looks forward to contributing to an organization where her actions can make a difference in people's lives. She says, "I like the idea that there's a chance that the work I've done for this organization will make someone's life a little bit easier."
Though Miller had grown up in New York City, this is the first time that she is there for the summer, and so she is enjoying the opportunity to attend free concerts free concerts and other events.
Through the unrelenting and dedicated efforts of Human Rights First, Miller aims to help expose human rights violations and keep them from occurring in Uganda. Through the organization's efforts, Miller hopes that the Anti-Homosexuality Bill will never come to pass.
Sara Miller is a graduate of Bronx High School of Science in New York City.