Million Hoodie March Founder Cites Power of Youth
---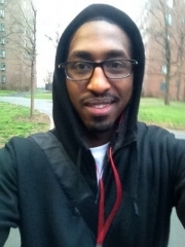 On February 26, 2012, an unarmed 17-year-old African American man named Trayvon Martin was fatally shot in Sanford, Fla. At the time the case did not attract much media attention, though it has since become of the most covered news stories of 2012. Daniel Maree, a senior digital strategist for advertising agency McCann New York, sparked a massive movement and mobilized hundreds of thousands of people to show their support for the Martin family and for racial equality generally. He spoke at Hamilton on Oct. 17 about his background in social media and his vision for the younger generation's potential to create change in the world.
Maree, who studied film, history and philosophy at American University, has been involved in political and social activism for his entire life. Growing up in South Africa, where his father experienced apartheid firsthand, Maree always felt intrinsically connected to issues of injustice and social change, particularly with regard to race. He's proud that his alma mater was named the most socially active campus in the country during his time there, and he was involved in the Roosevelt Institute, a student-run policy organization with a self-sufficient chapter at American University.
Maree got his first job in social media shortly after graduating from American, when he began working for Participant Media, a film- and television-production company that focuses on socially relevant films and documentaries. There, he solidified his understanding of how to mobilize people to act toward a particular cause, and how to get grassroots movements going using current technology. He went on to work for the World Bank, where he helped market their annual World Development Report with innovative social media strategies. By the time Maree was hired at McCann, he was an experienced advertising agent with a background in social change campaigns.
Maree first heard about the Martin shooting on March 19, 2012, at a point when the story had not received much media coverage. He was deeply upset by the case, and he relates that he felt moved to "try to communicate a message [about Martin's death] to the world that wasn't political." That evening, Maree posted a YouTube video of himself talking about the case, and he started a Facebook Page for the Million Hoodie March as a sign of solidarity with Martin, who was wearing a hoodie at the time he was killed.
The response to Maree's initiative was nothing short of explosive. His goal was to get 1,000,000 signatures for the petition. Within a few days, the petition had more than 2,000,000, making it the fastest growing petition in Internet history. Within 48 hours, more than 300,000 people had posted pictures of themselves wearing hoodies on Twitter. The movement gained speed at a monumental rate, and two days later in New York City, more than 5,000 people attended a march in Martin's memory, at which the teen's parents spoke.
This surge of interest in the case resulted in a massive influx of media attention, and Maree was interviewed by dozens of major national news networks that were covering the case. For some time, the story was even more popular than the upcoming presidential election. Within a week of the start of Maree's campaign, President Obama made his first public remarks about the case. Martin's story swiped up one fifth of all news coverage in America in just 48 short hours.
After this whirlwind of positive response to the Million Hoodie March, Maree is left optimistic about the power of young people to change the world. He believes that creativity and technology combined can be funneled toward social good in new and amazing ways, and that the younger generation has the ability to make full use of these tools. Maree's message speaks to using one's passions for social good, and to try to bring issues that people feel strongly about into the workplace, helping companies create change for the better.