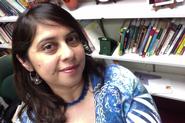 The question of what it means to be "American" has never been easy to answer. For marginalized groups, issues of competing identities and stereotypes can lead to discrepancies between self-identification and phenotypic identification. Shabana Mir, professor of anthropology at Millikin University, presented the findings of her research on the post 9/11 experiences of Muslim American women in American higher education in a Hamilton lecture on Sept. 23.
The lecture was part of the Days-Massolo Center's Speaker Series, and was co-sponsored by the Women's Studies department, the Muslim Student Association, and the Womyn's Center.
In her talk, Mir drew heavily from the contents of her book, Muslim American Women on Campus: Undergraduate Social Life and Identity, which recently won the 2014 Critics Choice Book Award from the American Educational Studies Association (AESA). The work is a collection of stories and raw data gathered from a diverse group of self-identifying Muslim women of varying ethnicities and degrees of religiosity from Georgetown University and George Washington University, in Washington, D.C.
Mir conducted ethnographic research, relying on participant observation, which requires immersing oneself in the culture, and on personal interviews in order to examine their experiences. She studied 13 undergraduate women from each university, interviewing them every month for a year.
Mir began this project in 2002, "a very hot time in D.C. considering the recent attack on the World Trade Centers and the Pentagon," she explained. With increased surveillance, federal investigations, and a general misunderstanding of Muslim culture, "it was a very awkward time to be Muslim, and an awkward time to be doing my research," she continued. Her initial study lasted until 2003, although she also conducted follow-up research in 2008 and 2009 at the same universities.
The take-home message of her talk - that no ethnic, religious or cultural group can be defined by the experiences of one individual - cannot be ignored, and Mir's exploration of identity through personal narratives, rather than sweeping generalizations, was illuminating.
When addressing the question of "Americanness," Mir found that Muslim-American women were primarily concerned with three aspects of college life: alcohol, clothing and sexuality. Although each of these participants had legal citizenship, Mir found that this does not equate to cultural citizenship, or "acting American." She acknowledged that while many groups struggle with this, she is focusing on Muslim-American women as a model for stigmatized aspects of one's identity.
To elucidate this, Mir spoke about one of her respondents, Intisar, a Somali-American refugee who had a natural affinity for basketball. She used this skill as a "disidentifier," that is, to minimize Muslim as her sole identifier: "I could be Intisar who plays basketball and who also happened to be Somali and Muslim, when those things would at first define me otherwise."
Sociologist Erving Goffman described this phenomenon as "the stigma [taking] over the entirety of that person… they can weaken all other claims to normality and make someone not quite human." Mir found that these women understandably "hated being boiled down to just their religion." This led many of them ignore their religion altogether in social situations instead of trying to explain themselves to other, a process they described as "draining and frustrating."
Although identity stereotypes may seem immutable, they are in fact perpetually in flux. The best way to overcome them is to keep in mind that subconscious stereotypes influence our perceptions and to ask someone about their experiences. Mir added, "it's important to ask in such a way that doesn't put them on the spot or clothe them in the identity you're seeking."