Mock Dorm Room Fire, Documentary Bring Attention to Fire Safety Week
---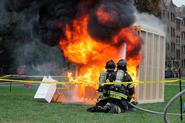 In observance of Fire Safety Week, Hamilton College hosted two events on Wednesday, Oct. 3, to draw attention to both the risk and prevention of fire on college campuses.
The first event was a simulated dorm fire staged by the Clinton Fire Department which took place outside of the Science Center. The simulated dorm, or "pod," was a wooden box furnished with a bed, chairs, some Hamilton jerseys hanging on the wall and a few papers scattered around the floor. A smoke detector was also stationed higher in the ceiling.
The clock started when a member of the Clinton Fire Department set a few papers in the corner of the room alight. The fire fighters explained, "It takes about 30 seconds for a fire to double in size." At 22 seconds the smoke detector sounded. After a minute, the fire began climbing up the walls; the temperature at the ceiling was estimated to reach at least 200 degrees. At two minutes, the smoke detector melted. At three minutes, the blaze became an inferno; the pod itself could not be seen behind the wall of fire. At four minutes, the fire department finally extinguished it. According to the fire fighters present, their best response time to a fire on Hamilton campus is between five and 10 minutes.
All that remained of the pod were charred skeletons of the furniture and blackened walls. Hamilton's Director of Environmental Protection, Safety and Sustainability Brian Hansen hopes this presentation resonates within the community. As he explained, "the impact is simply for students (and employees) to both feel and see how quick and destructive a fire actually is." Four minutes, and the pod was engulfed.
The second event brought two survivors of dorm fire to Hamilton. Shawn Simons and Alvaro Llanos, two survivors of the Seton Hall dorm fire in early 2000, screened a film documenting their recovery titled, "After the Fire: A Story of Heroes and Cowards," on Wednesday evening.
The fire alarm sounded in Boland Hall, a freshman dorm in Seton Hall University, at 4:30 a.m. on January 19, 2000. The fire broke out on the third floor common room, and within minutes had overtaken much of the hallway. Simons and Llanos were roommates living in Boland Hall. Llanos recalls, "a piece of the ceiling fell in on me and caught my jacket on fire…. I was 18 at the time and remember feeling invincible. I looked at my skin peeling off and was like, 'Oh, I'll be back in a week'…I woke up three months later." This fire took the lives of three students and injured 58 others, Simons and Llanos being two of the worst cases.
Both 18-year-olds were in critical condition—Simons with severe burns to his face and hands, Llanos burned throughout his torso. Both were unconscious, though their pain was sometimes so intense as to elicit a moan or grimace. Simons was in a coma for three weeks; Llanos for three months.
When they awoke, both faced a long road of recovery. Llanos especially had to learn to walk and talk again and develop his range of motion while his skin grew back. He described it as, "You feel like you're in a different body." Despite regular doses of painkiller, they were in constant pain for months. But they braved their recovery together, sharing their suffering and successes.
Simons described himself and Llanos as the "guinea pigs of fire safety." The tragedy at Seton Hall spurred others, especially colleges and universities, to take more precautions against fire. New York State now mandates sprinklers in every college building; Hamilton's own fire inspection program started 10 years ago in response to the Seton Hall tragedy.
Hamilton also has a personal connection Simons and Llanos. Jeff Landry, assistant dean of students for health and safety, was part of the residential life staff at Seton Hall when the fire occurred. His firsthand experience with tragedy is why Landry holds an extensive fire safety lecture for all first-year students during orientation. He remarked, "The room immediately gets silent. You could hear a pin drop," when Seton Hall comes up. He knows it is a lasting, sobering story that will stick with the Hamilton community.