Mock Trial Team Takes First Place in Colgate Tournament
---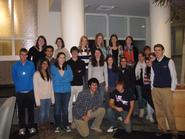 Hamilton's Mock Trial team took first place at the inaugural Colgate Classic tournament, Nov. 7-8. The team, which was undefeated, competed against College of the Holy Cross, Canisius College, Drexel University, and then last year's regional champion Syracuse University in the fourth, championship round. Twenty-four teams competed from schools that included Princeton, Amherst, and the University of Rochester.

The Hamilton team included Liz Farrington '10, Noah Bishop '11, Nick Green '12, Mark Ibrahim '12, Ian Thresher '12, Alex Rued '12, Anna Yakabe '13, Emily Tompsett '13, Marta Johnson '13 and Libby Gutschenritter '13. Tyler Roberts '12, one of the team's captains, also attended.

Hamilton's Mock Trial Team has 25 students, most of whom are sophomores and first-year students, Roberts said. The Colgate Classic was Hamilton's first invitational of the academic year. "We were strong but we didn't really expect to win. No one else expected us to win either," Roberts said.

Noah Bishop '11, the team's other co-captain observed, "The second day (Sunday) the team came together in a way Tyler and I had not been expecting. We thought we had a good idea of what to expect from the team, but everyone's part jelled quite well." Bishop added, "There were several moments where first-time attorneys argued objections very well, and I would have to say I was most pleased about that."

Roberts explained the process involved in competing in a Mock Trial tournament. In August, the American Mock Trial Association (AMTA) distributes a fictional case to college mock trial teams. All competitions throughout the year are then based upon this case. This year's case was a homicide involving three entertainment executives, one of whom has a disagreement with his two partners over a buyout of their company and ends up dead.

Team members are assigned roles as attorneys or as one of five witnesses for each side. During the competition the team argues the case as either the defense or prosecution, with team members acting as either attorneys or witnesses. "It keeps it interesting," Roberts said, "because we don't know ahead of time what witness will be called or what they will be asked."

In each round the judges – professional attorneys or judges – score each student participant on a scale of 1 to 10. At the end of the round individual scores are tallied for each team, and then those scoring highest advance to the next round.

Roberts said the team prepares initially by reading the 109-page case. Then team members discuss the theory of the case, assign roles, and decide who they will call as witnesses. Finally the attorney and witnesses create direct and cross examination questions and responses which they memorize and practice in front of the group.

"Being on Mock Trial is helpful as far as preparing you to speak well in front of people, listening well and thinking on your feet," Roberts observed. "It develops skills that will be helpful in any field, not just law."

The Mock Trial's team next competition will be the Cornell University Invitational on Jan. 30-31. Following that is the regional competition at Syracuse University on February 13-14. The top eight teams from the Regional advance to what is known as the "super regional," which involves colleges from other regions. It all culminates in the national competition in April.
.
Hamilton's team will not be taking a recess over the upcoming breaks. "We'll make adjustments based on what happened at Colgate; we get feedback on how we're doing," Roberts said. "We're happy we won but we're not going to get complacent."


This story appeared in the November issue of eNews.