Mock Trial Competes at Regionals
---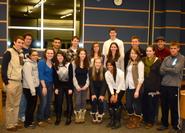 Hamilton's Mock Trial team participated in regional mock trial competition February 13-14 at Syracuse University, with two team members winning special recognition. The team finished in 11th place out of 24 teams. The top eight teams advanced to the next round.

Ian Thresher '12 won an All Region Attorney award and Alex Rued '12 won an All Region Witness Award. Thresher had 20 ranks which is the highest that witnesses and attorneys may be ranked by judges. Rued had 18 ranks. In addition the team earned an Honorable Mention (2nd place) for the Spirit of AMTA award which is given to teams that exemplify the ideals of the American Mock Trial Association "civility, justice, and fair play."

Typically in Mock Trial competitions there are at least two judges per round. At Syracuse there was only one judge. As such the American Mock Trial Association is hosting a supplementary regional for the teams that did not qualify for the postseason. The top team at this competition will earn a bid to the postseason and depending on the number of teams the second place team may also get a bid. Hamilton's team will be attending this supplementary regional on Feb. 26-28.