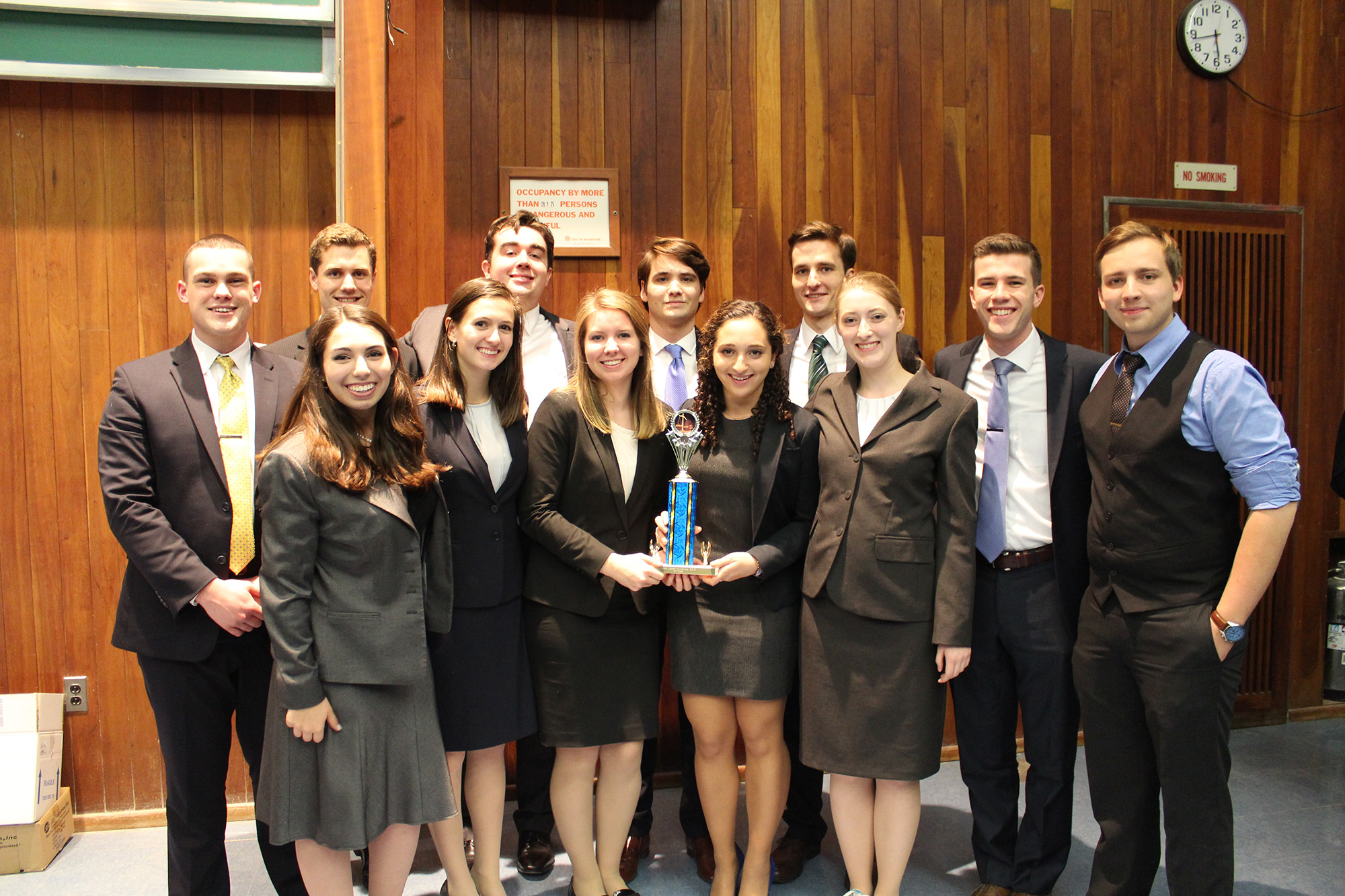 Hamilton's student-run Mock Trial team took home the 1st place trophy from the University of Rochester's "Yellow Jacket Invitational" held on Nov 6-8. This is the third year in a row that the team has won this tournament. In addition, two of Hamilton's attorneys (Silvia Radulescu '17 and Andrew Fischer '17) won Outstanding Attorney Awards, and one witness (Patrick McConnell '19) won an Outstanding Witness Award. This means that the judges consistently ranked each student as being one of the best attorneys or witnesses in their trials.
This year's case, which the team will work with through the spring of 2016, is a criminal case about bribery. The Prosecution alleges that Avery Bancroft, a casino owner, bribed the chair of a Gambling Commission, Chase Covington, in order to earn a new casino license. The Defendant, concedes that she bribed Chase Covington, but claims that she was entrapped by an undercover police officer. There's a lot of ambiguity built into the case that the team must decipher and use to support their case theories.
The Hamilton team felt pressure to perform well at this tournament due to its past record, but was able to transform that pressure into constructive energy and excitement. The first day, Hamilton chose to challenge St. John Fischer College. The team won the round by a landslide. The next was against University of Massachusetts, Amherst. The most impressive aspect in this trial was the ability of Hamilton's attorneys and witnesses to stay cool and collected when presented with somewhat extremely aggressive opponents. This competition in this round was tighter than the first round, but Hamilton's team still won unanimously.
The team went into trials on Sunday with a win record of 4-0, and had no plans to change that momentum. The first trial was against the University of Vermont's A team. The team won this round as well, giving them a record of 6-0 and granting them entrance to the championship round, against Williams' A team. Both teams enjoyed this healthy NESCAC rivalry. Hamilton's team once again exemplified strong communication skills and characteristic charisma. Ultimately, Hamilton won this round unanimously, leaving the team undefeated throughout the entire tournament.
The Mock Trial Team members are proud of their success at this recent tournament, and look forward to their upcoming tournament at Yale University (Dec 4-6). The talent of the new members excites the team and all are looking forward to the tougher competitions later in the season.
The competing team members were: Co-Captains Hunter Green '16 and Caroline Reppert '17, Andrew Fischer '17, Silvia Radulescu '17, Ryan Bloom '18, Thomas Duda '18, Conor O'Shea '18, Jonathon Stanhope '18, Rachel Dawson '19, Samantha Gordon '19, Brad Marston '19 and Patrick McConnell '19.