Mock Trial Team Advances to Opening Round Championship Series
---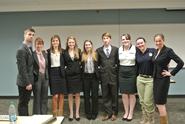 After its victory at the Cornell Invitational, Hamilton's Mock Trial team once again demonstrated its strength with a 5th place finish at their regional qualifier in Buffalo on Feb. 23-24. Compiling a record of 5-3, the team performed well enough to advance to the Opening Round Championship Series of the American Mock Trial Association's (AMTA) national tournament. With high hopes of furthering an already impressive series of victories, the team will prepare for the next round in two weeks.
With a great deal of talent and teamwork the Mock Trial team has already prepared both a plaintiff's case as well as a defense to this year's wrongful death claim. This year's civil case is being brought by the husband of a deceased diver who is suing the company that led the couple's doomed honeymoon diving vacation.
The fact pattern entails accusations of gross negligence, complex scientific theory surrounding the medical condition nitrogen narcosis and a body that was never recovered. The case materials include an indictment, witness affidavits, expert reports and other evidentiary pieces that the team uses to formulate a case theory, opening and closing statements, as well as witness examinations. Attorneys and witnesses for each team then assume the roles of plaintiff or defense and face off before a panel of judges to present their case.
Hamilton's Mock Trial team displayed great acumen at the Buffalo regional, entering the third round with a perfect record of 4-0. By the end of the 4th round Hamilton dropped a total of only three ballots, two of which were lost to the tournament's undefeated champion Penn State A.
Hamilton co-captain Maggie McGuire '15 said, "In the Penn State round we faced very tough competition but ultimately demonstrated why we can compete with the best. We reacted well under pressure and I am proud of our team." In a gripping and suspenseful trial Hamilton lost the two ballots to Penn State by a margin of only -4 and -6, close by any team's standards.
In addition to competing well as a team, two individual awards were awarded to Hamilton witnesses on both the plaintiff and the defense. Ian Carradine '15 racked up 17 ranks for his portrayal of the dive master and former Marine Reggie Rogers, while Emily Tompsett '13 was awarded for her role as Bailey Johnson, an Australian scuba expert. Perfect 10s were awarded to nearly every member of the team throughout the tournament, demonstrating their strength and preparation. Boasting a high level of talent and a strong sense of camaraderie the team considers itself to be one of the strongest coming out of the Buffalo regional.
The greatest challenge right now is responding to the case changes made after last weekend's regional round. Changes this year include a new witness and new export reports that have been added to challenge teams before the opening round of the national tournament. Hamilton's team will have to drastically change its case theory, witness call and witness examinations to carefully tailor a cogent and forceful legal argument. "Case changes this year are extensive and will definitely keep us busy over the next two weeks," remarked Libby Gutschenritter '13, a plaintiff's attorney. "Under pressure, I'm confident that we'll continue to do well at ORCS in two weeks."
Team members include: Emily Tompsett '13, Marta Johnson '13, Libby Gutschenritter '13, Jason Driscoll '14, Maggie McGuire '15, Ian Carradine '15, Daniela Manzi '15, Amber Groves '15, and Mary Farrington '16.