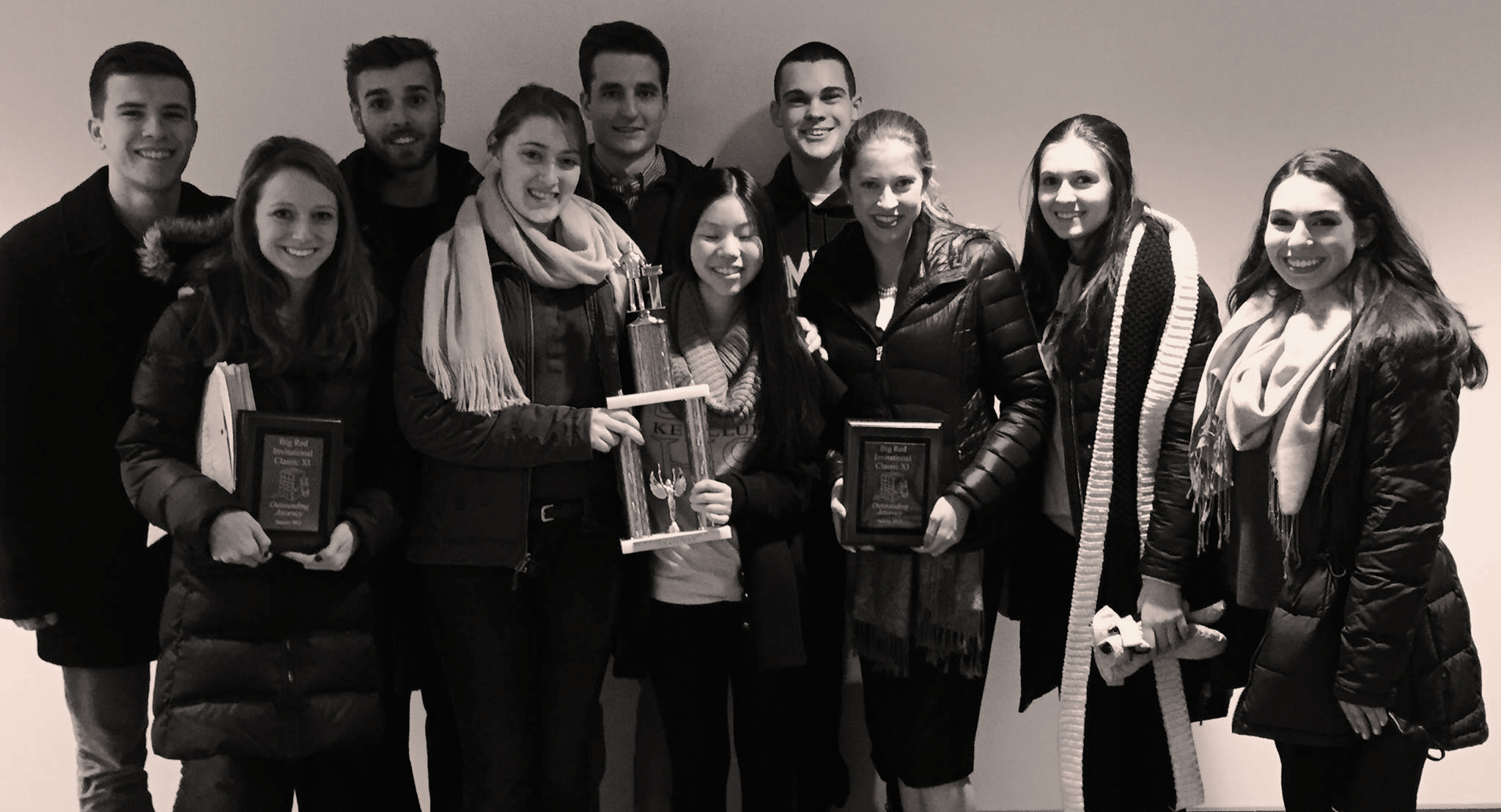 Hamilton College's student-run Mock Trial team took home 4th place at the recent Cornell Invitational tournament. Twenty-six teams competed. Two of Hamilton's attorneys, co-captains Maggie McGuire '15 and Amber Groves '15 won Outstanding Attorney Awards for earning 18 ranks (out of a possible 20). This means that the judges ranked them as being the best attorneys in their trials at least three times.
Other members of the team are Hunter Green '16, Ian Carradine '15, Andrew Fischer '16, Conor O'Shea '18, Ryan Bloom '18, Sam Weckenman '17, Silvia Radulescu '16, Caroline Reppert '16, Alex Wang '16, Allison Zuckerman'18, Thomas Duda '18, Genevieve Caffrey '17, Caroline Kreidberg '17 and Puru Gautam '16.
Hamilton faced tough competition throughout the tournament, including teams that regularly compete in the national competition. The first day, the team competed against Brown and American, and was undefeated. The second day, Hamilton faced Cornell A. This trial was arguably the hardest of the weekend. Cornell and Hamilton were closely matched teams; both witnesses and attorneys on both sides exemplified the preparation and courtroom decorum needed in such types of competition.
The presiding judge even commented that in all of the years he had been judging, this was the "most impressive round," and that it was very difficult to determine an overall winner. Ultimately, each team won one ballot, meaning that the two judges disagreed on who won the round overall, and effectively tied the trial. At the closing ceremony, Hamilton learned that Cornell came in 2nd place with a record of 7-1, meaning Hamilton was the only team to have taken a ballot from them.
The final trial was against Yale, a team that Hamilton had actually already competed against at a prior tournament. There were some unexpected turns in this trial, but both teams held well under the pressure. As with the third trial, Hamilton tied this round.
The Mock Trial Team members are proud of their success at this recent tournament, and look forward to their upcoming scrimmage against the University of Rochester (Feb. 6) and the regional tournament in Buffalo (Feb. 21-22). If the team does well at regionals, they will compete at the opening round championship and potentially at the national competition.