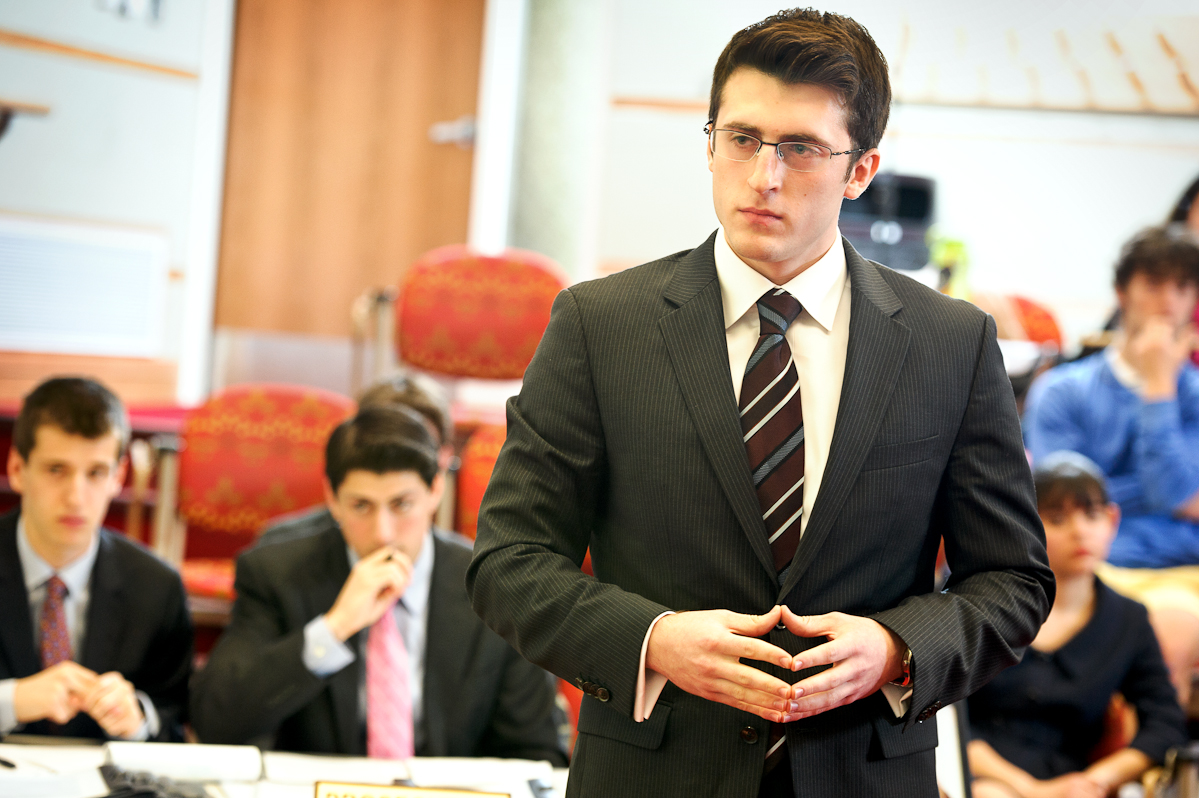 An alarming robbery at Racheter World Amusement Park in Midlands results in the death of park security guard Winston Thomas. In an impressive display of legal and communication acumen, the Hamilton College Mock Trial team brought the criminal case of Bowman v. State of Midlands to court on April 19 and April 20 against legal teams from Cornell and Rochester. This tournament, hosted on the Hamilton campus, was the College's first home invitational.
Hamilton's Mock Trial team has been preparing this year's criminal case, sponsored by the American Mock Trial Association (AMTA), since September. Throughout the year, the team participates in six to nine invitational and ranked-AMTA tournaments, adapting its case based upon changes released by AMTA without notice. Already this season, the Hamilton team has made notable accomplishments; competing against some of the best teams in the Northeast, it placed first at the Rochester Invitational, fifth at Yale, eighth at Tufts and with a trophy finish at the Big Red Cornell Classic.
Planning for the two-day Hamilton invitational, organized by tournament director Patrick Bedard '14, began in January. Building a network among other competitive college mock trial teams in the region has been an ongoing goal of Hamilton's team, and Jason Driscoll '14, a captain of the team, expressed that the weekend's competition was a significant step in strengthening such relationships. "This event allowed us to reach out to teams from Cornell and Rochester on both a social and professional level. The relationships we form during competitions are important for our national reputation and provide us with greater opportunities during the competitive season," he explained.
Mock trial veteran Tyler Roberts '12 served as the trial judge for both days of the tournament. Roberts is currently a law and pre-medical student at Columbia University. The small jury was comprised of student volunteers and faculty, allowing for competitors to develop intimate relationships with its members.
The Hamilton team — which features students of all class years and levels of previous experience — was divided during the two-day tournament, representing the defense in its competition against Cornell on Saturday and the prosecution on Sunday.
On Saturday, Hamilton attorneys included Will Walant '17, Caroline Reppert '17 and Jason Driscoll '14, who delivered the opening, middle and closing addresses, respectively. Bedard noted that Saturday's competition was Reppert's first college trial and called her performance "amazing." As the defense's witnesses, Puru Gautam '16 played Charlie Kaminskey, the limo driver and unknowing accomplice; Genevieve Caffrey '17 played Buttons Conroy, the accused's former employer; and Ian Carradine '15 played the defendant of Whit Bowman. Carradine has won multiple awards as a witness in previous years.
Sunday's competition (v. Rochester) featured attorneys Hunter Green '16, Caroline Kreidburg '17 and team captain Maggie McGuire '15, who respectively delivered the opening, middle and closing addresses. The witnesses for the prosecution included the characters of Billie Isaacs, an Irish bar tender and former Racheter World employee, played by Carradine; Taylor Hartman, a Racheter World enthusiast and supposed eyewitness, played by Caffrey; and Frank Kimball, the case's lead detective, played by Patrick Bedard '14. An experienced mock trial witness, Bedard caused the jury to question the effectiveness of his opposing attorneys' cause with his sassy, yet professional, responses during cross-examination, including the notably sly comment of, "I didn't ask [the accountant] if he knew how to count."
It was quite clear that while court was in session, the participants were no longer Hamilton students; they had transformed into practiced lawyers, or even entirely new personas as witnesses.
The level of competition throughout the weekend was moderately casual, allowing for an enjoyable rather than stressful experience. According to Bedard, "Rochester and Cornell are some of our favorite teams to go against at invitational and national tournaments because they present tough but fair and enjoyable competition." Yet, the calm atmosphere did not prevent Hamilton from giving its best effort. Student attorneys displayed the utmost degrees of interpersonal intellect and professionalism, powerfully appealing to the emotions of the jury in their addresses and responding to the opposing teams' objections without stumbling. The witnesses similarly demonstrated their expertise, cleverly avoiding opposing attorneys' questions and attacks while remaining polite in the eyes of the jury.
Ultimately, Hamilton finished on top at the end of the weekend with a score of 4-0; Cornell finished second with a 2-2 result, and Rochester finished third with a 1-3 result.
"I was proud of Hamilton's team this past weekend," said Driscoll. "Now that I am graduating from mock trial, it was important to have one last competition that we could showcase to our community. Our spectators and supporters are essential for our success throughout the season and we wanted to give back by showing how strong our team really is."
In addition to serving as an opportunity for team members to further hone their skills and strengthen their case, the weekend proved to be very educational. "We learned that we have the necessary facilities and resources to host a full-blown AMTA mock trial invitational," said Bedard. Though Hamilton only invited two teams to this year's invitational, the team hopes to ultimately host a tournament of 10 teams, in the fashion of most AMTA tournaments.
The team hopes that the College community develops a greater interest in exploring the personal and academic merits of mock trial. Following Hamilton's aim to foster clear and powerful communicators and thinkers, Driscoll explains that mock trial "[perfects] the writing and speaking skills that our mission statement embodies…on a very competitive level. The amount of preparation that is required to compete at this level gives students the opportunity to learn something that they do not learn in the classroom. Mock trial is both an academic and professional experience that gives our students the skills necessary to succeed as litigators and trial lawyers, among other careers."
Following graduation, Driscoll intends to take a year to fully prepare for LSATs. Bedard has accepted an offer for a financial and regulatory analyst position at the Hanover Insurance Group, an international property and casualty insurer.