Mock Trial Team Prepares For New Season, Takes on Six New Members
---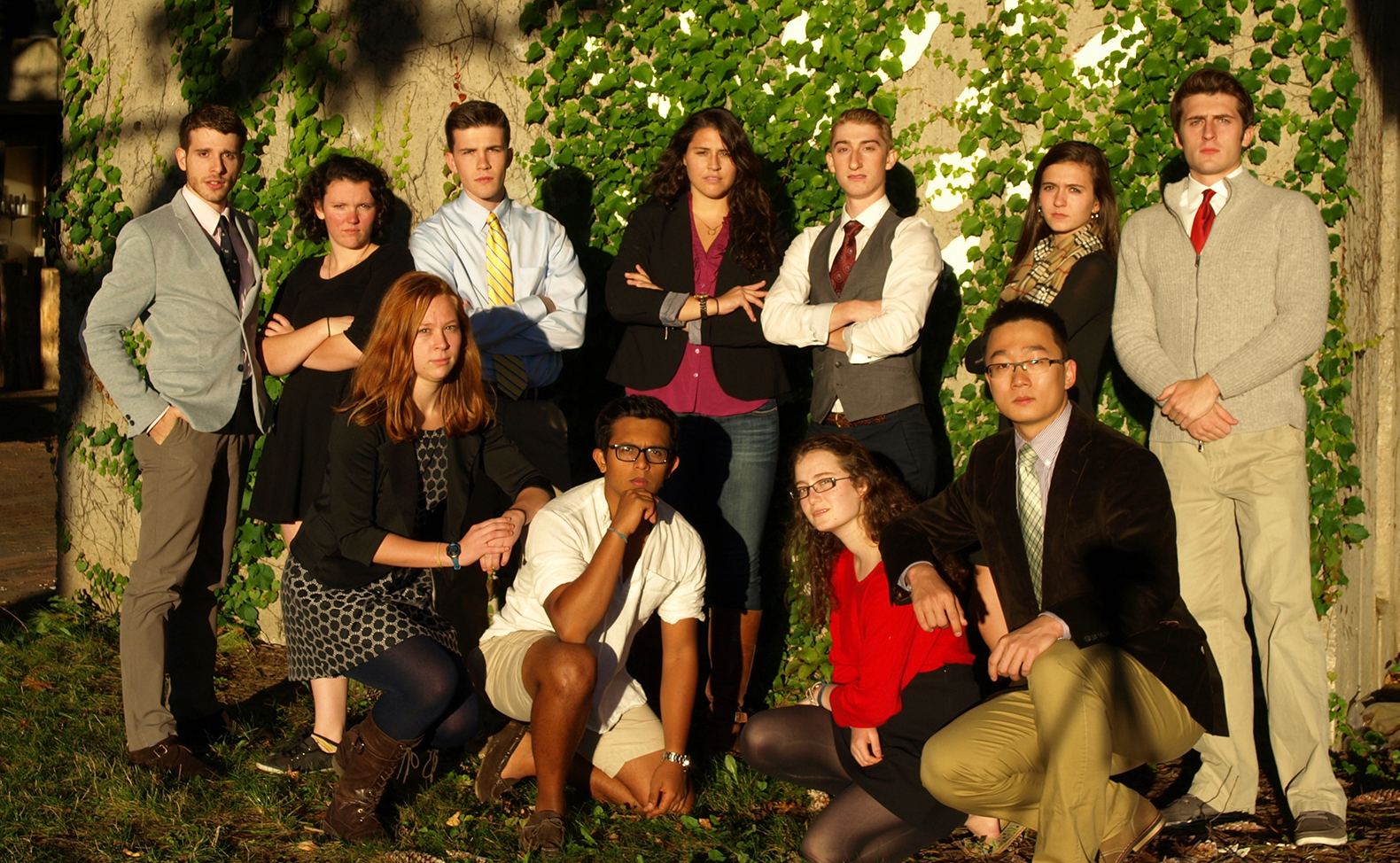 The American Mock Trial Association (AMTA) has released the first round of revisions to the 2014 college mock trial case, and Hamilton's mock trial team is preparing for another successful season. After competing in the national championship tournament in 2012 and winning the Cornell Big Red Invitational Tournament in 2013, Hamilton mock trial has high expectations to fulfill for the coming year. The team's recently announced national rank of 65 out of a competitive field of more than 600 teams has allowed Hamilton to secure an impressive tournament roster for the 2014 season, including invitational tournaments at Tufts, Yale and Cornell Universities.
The AMTA alternates between civil and criminal trials each year, and for 2014, college mock trial's organizing body has prepared a complex criminal case involving financial fraud, a knifepoint robbery and roller coaster ride that ended in pitch-black chaos. In this year's case, an employee at the Racheter World Theme Park in the fictional state of Midlands is suspected of running a ticket sales fraud scheme, which has shaved away thousands of dollars of company revenue. Sensing that he is about to be found out, the employee, Cameron Poole, shows up for work with a knife in hand. After holding up the ticket counter for a bag of cash, Poole makes a daring escape through one of the park's rides. In the process of the getaway, the ride's operator, Whit Bowman, kills the lights in the ride's tunnel, causing longtime park security guard and former police officer Winston Thomas to be struck by one of the ride's cars and put into a coma.
Now, a man stands on trial for robbery in the first degree and theft by deception – only it's not Cameron Poole, who still remains at large. Instead, Whit Bowman is put on trial for complicity, which holds him responsible for the actions of his coworker. Now, questions abound regarding who did what when. How much did Bowman know about the ticket fraud scheme? Did he supply the knife that was used in the armed robbery? And most importantly, did he shut down the ride's lights purposefully, to aid Poole's escape, or accidentally, as he tried to hit the ride's emergency kill switch? These questions weave into an intricate web of evidence, including affidavits, financial statements, 911 call transcripts and police investigation reports. The elements of complicity and facilitation help to make this case one of the most challenging Hamilton's mock trial team has ever encountered.
Fortunately, this year's mock trial team brings together a core group of highly experienced upperclassmen and a competitive group of first year students. Senior team captain Jason Driscoll '14 brings eight years of mock trial experience and numerous attorney awards to the table. Co-captain Maggie McGuire '15 is currently studying in Dublin, Ireland, and is eager to return to campus for the spring trial season. Senior KT Stein '14 has returned from a year of studying abroad at Oxford University to take on a substantial attorney role, and senior and expert witness Patrick Bedard '14 also returns to the team after studying in Edinburgh, Scotland. All four were members of the mock trial team when it competed in the national championship tournament in 2012. Team treasurer Mary Farrington '16 and witness and attorney Puru Guatam '16 are returning to the team for their second year.
The mock trial team took on six new members for 2014 from a pool of more than 20 candidates, making this the most selective year in the team's history for new member tryouts. New members include attorneys Hunter Green '16, Caroline Kreidberg '15 and Will Wallant '15, and witnesses Genevieve Caffrey '15, Silvia Radulescu '15 and Alex Wang '15.
With their first competition scheduled for Nov. 1 at the University of Rochester, the team is looking to finalize their case theory and witness call over the course of the next few weeks of practice. According to team captain Driscoll, "Expectations for this year are quite high. Tryouts were competitive relative to past years and the new members we accepted have the potential to do great things. This, combined with the skill of our returning members, makes this year's Mock Trial team historically powerful. Expect a lot from us this year as we expect to deliver."