Mock Trial Team Prevails at Supplementary Regionals; On to Championship Series
---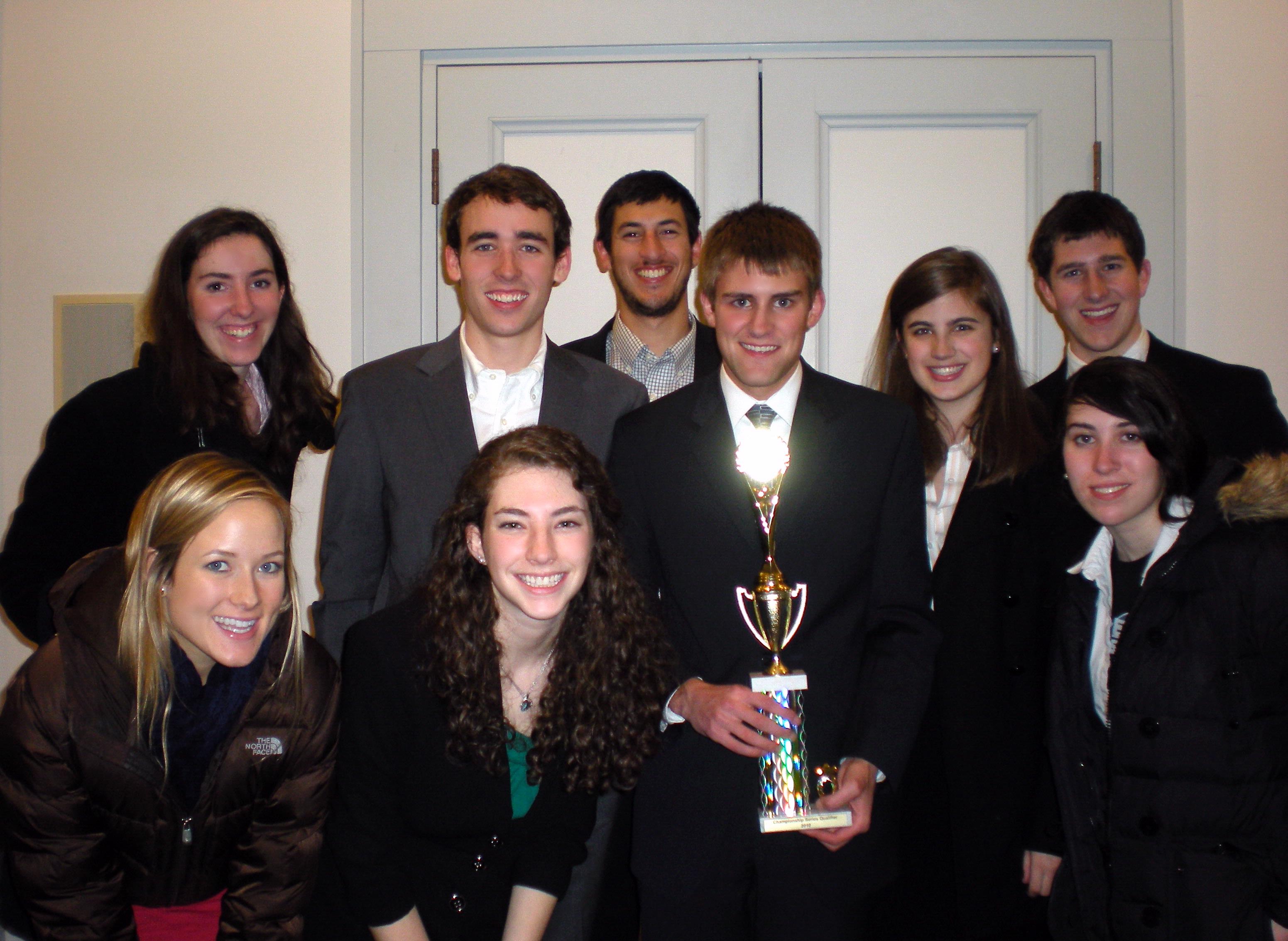 Hamilton's Mock Trial team won its supplementary regional tournament on February 27 at Colgate University and by doing so qualified for the Opening Round Championship Series competition in White Plains, N.Y. This supplementary regional was a continuation of the regional competition at Syracuse University on February 13-14. Hamilton won both of its trials at the supplementary regional—first defeating the University of Buffalo and then Colgate University. The team qualifying for the postseason included Liz Farrington '10, Noah Bishop '11, Nick Green '12, Julia Goldstein '12, Tyler Roberts '12, Alex Rued '12, Ian Thresher '12, Libby Gutschenritter '13, Marta Johnson '13, and Emily Tompsett '13.

Hamilton's other team also won their morning trial but did not advance beyond the afternoon. That team consisted of Dorian Bakogiannis '10, Ted McBride '10, Tim Kubarych '10, Evan Klondar '11, Lennie Specht '11, Isaac Blasenstein '12, Mark Ibrahim '12, Sumi Nair '12, Beth O' Meara '12, and Elly Field '13.

Tyler Roberts, one of Hamilton's captains noted, "I was very happy with the team's performance this weekend. If we execute, we're a very strong team. We still have some work to do before we get to White Plains," he said, "but if we perform like we did this weekend I feel good about our chances."

"This year, although the team is young, and made up of more people who have never participated in a Mock Trial program before, we've seen great success," added Noah Bishop, Hamilton's other captain. "I think everyone involved has learned how to compete and conduct themselves in the courtroom setting. We're extremely excited about our Opening Round Championship at Pace Law School."

Liz Farrington '10 has been on the Mock Trial team for several years. This year she was an attorney on the prosecution and played the defendant, Jackie Owens. She commented, "Mock trial provides a wonderful complement to our education at Hamilton; in particular, it extends communication skills beyond the classroom, refining public speaking ability and teaching composure in high-pressure situations. The competitive setting combines academic issues of legal philosophy with the realities of the justice system, and the gravity of a trial with the pleasures of theater and of being part of a team."

The next competition is on March 13-14 at Pace Law School, where 24 teams will compete, including teams from Columbia, Princeton, Cornell, Georgetown, and New York University.

Student author Tyler Roberts '12 is a graduate of Eastside Catholic School.