Mock Trial Team Takes First at Colgate Tournament
---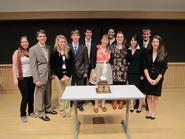 Hamilton's Mock Trial team participated in the third annual Colgate Classic at Colgate University on Nov. 5 and 6 and finished in first place, continuing a series of strong performances in the tournament. Ian Thresher '12, Marta Johnson '13 and KT Stein '14 won Outstanding Attorney awards and Emily Tompsett '13 won an Outstanding Witness award.
This year's case involved an allegedly intoxicated driver who got into an accident that killed one of her passengers. Each participating school organizes a prosecution side and a defense side. The prosecution must attempt to prove to the jury that the defendant is guilty of both driving under the influence of alcohol and murder in order to claim victory. The defense needs only to mitigate the charge of murder in order to win.

Two judges, usually local attorneys, preside over the trial and weigh in on objections. Each fills in a ballot to decide the winner of each round. The trial is designed to mimic many aspects of an actual trial. Both sides call witnesses, argue over evidentiary matters, conduct cross-examinations, and give opening and closing statements.
Tyler Roberts '12, captain of the Mock Trial team, said, "We were prepared for just about everything we saw. We just had to go out and execute our game plan." And execute they did. The first trial pitted Hamilton's defense against St. Bonaventure University, the wild card of the tournament. Hamilton ended up winning both ballots, setting up a match with regional powerhouse University of Rochester. Hamilton's prosecution participated in this round and made quick work of Rochester's defense side, winning both ballots by a substantial margin.

At 4-0, Hamilton's team knew that they would start to face the tougher teams in the tournament. Stronger teams are able to adapt to the witnesses the other side calls by changing their own witnesses or even their entire theory of the case. Roberts cited this as one of the most stressful parts of participating in Mock Trial. He said, "It's difficult to adapt to different tactics. Teams all have different witness calls, different case theories, and make different objections. The adjustments from round to round can be tough."
The undefeated Hamilton side drew the other Rochester team in the semi-final round of the tournament. The defense was fully prepared for Rochester's team, having made some crucial changes to their objections and cross-examinations the night before. Winning both ballots catapulted Hamilton, at 6-0, to the top of the standings, setting the stage for a championship round against the University of Pittsburgh. The prosecution side went against a well-prepared Pittsburgh team. Ultimately, Hamilton's superior witnesses and successful impeachments against two of Pittsburgh's witnesses allowed the prosecution to pull ahead and win, at 8-0, the Colgate Classic for the second time in three years.
Despite the undefeated record, Roberts believes the team has its work cut out for it. "We need to keep working if we're going to stay competitive. The main things we need to work on are making and responding to objections, knowledge of the rules of evidence, and generally smoothing out our presentation. I think we're close on the substance, we just have to present a little better," he remarked.
Roberts said the team is strong this year and predicted, "If we keep working on getting the little things right, we have a good shot at doing well in the spring and making the post-season. We just need to make sure we don't get complacent."