Molly Kane '09, John-Paul Koenig, and Adirondack Adventure Team Are 2009 HamTrek Winners
---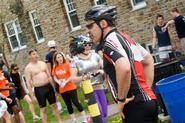 Molly Kane '09 was top female individual finisher, John-Paul Koenig of Clinton was the top male individual, and the Adirondack Adventure team won the relay in the sixth annual HamTrek Triathlon on May 8.

Koening finished with a time of 54:24; Kane, who was also the female winner in 2007 and 2006, had a time of 1:10:25. The Adirondack Adventure relay team of Director of Outdoor Leadership Andrew Jillings and trip leaders Makenna Perry '12 and Nick Costantino '12 finished in 56:02.

Forty-four individuals and 44 teams competed in the event that took place after the Class & Charter Day Awards ceremony. Participants swam 21 lengths in the pool, biked nine miles and ran 5 kilometers.