Moody's Affirms Hamilton's Aa2 Rating with Stable Outlook
---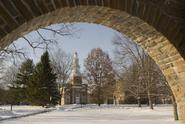 Despite the pressure of continued economic turmoil, Moody's Investors Service has assigned Hamilton College an Aa2 rating and said the college's financial outlook is stable.

The rating is the same, and the financial outlook is identical, to Moody's initial assessment of the college in July 2008.

"That Hamilton has been able to maintain its favorable rating and stable outlook in a period of economic uncertainty is testament to sound fiscal practices and the support of alumni, parents and friends," said President Joan Hinde Stewart. "We face real financial challenges, of course, but we do so from a position of considerable strength."

In fact, Moody's cited Hamilton's "continued favorable market position," "robust operating performance," "conservative fiscal practices," "nearly fully fixed rate debt portfolio" and "healthy liquidity position" when releasing its assessment of the college's financial health.

The rating agency said "Hamilton has a history of consistently positive operating performance that produces solid debt service coverage. … In Moody's opinion, good fiscal management practices contribute to the strong operating results, including budgeting a contingency of $1 million each year as well as typically budgeting for fewer students than are enrolled."

The agency said "the stable outlook reflects Moody's expectation that the college will continue to build financial resources over time from sound financial management, maintain its solid student market position, and incur additional debt in concert with increases in financial resources."

Hamilton's rating came a week prior to Moody's overall negative assessment of colleges and universities. "Higher education institutions are now operating in a context of greater uncertainty, reduced financial flexibility and increased competitive pressures," Moody's said.

Specific challenges for Hamilton, according to Moody's, include a "decline in financial resources," "possible pressure on student market position" and continued reliance on one-time funding resources for plant renewal." The agency did acknowledge, however, that Hamilton has invested an average of $27 million annually in capital projects, which has lowered the age of the plant to 8.7 years. This figure "compares favorably to the Aa-rated private college and university median of 11.7 years," according to Moody's.

"Indeed, we have seen," Stewart said in her January 28 letter to alumni and parents, "despite the many good signs, a not unexpected decline in net assets. As Moody's pointed out, and as we are well aware, we will continue to face fiscal challenges, but we have exceptional opportunities before us."

Stewart said Hamilton continues to benefit from record enrollment, high rates of retention, a growing endowment and strong financial support from alumni and parents.

This story appeared in the February issue of eNews.