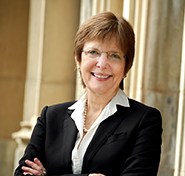 Alumni, parents and friends of Hamilton have established a $5.4 million endowed scholarship to honor the College's president, who is retiring June 30 after 13 years.
Hamilton Board of Trustees Chairman Steve Sadove announced the creation of the Joan Hinde Stewart Scholarship Fund at a dinner honoring Stewart on May 7 in New York City. He said the fund will provide need-based financial aid and support for career exploration activities to Hamilton's most needy, deserving and talented students.
"Joan Stewart has worked hard to make certain that students from limited means would always have the financial resources to attend Hamilton," Sadove said. "Her legacy is ensured with the establishment of this fund. It is a perfect way to honor her service."
Sadove said more than 200 people contributed to the fund. "We are grateful to Joan's many friends and admirers who have chosen to honor her in a way that is so meaningful to her and to the College," he said.
Stewart was the first in her family to attend college. She received scholarships to attend St. Joseph's College in Brooklyn where she earned a bachelor's degree in 1965 and Yale University, which awarded her a Ph.D. in 1970. After teaching at Wellesley College, Stewart held faculty and administrative positions at North Carolina State University. She was Dean of the College of Liberal Arts and Professor of French at the University of South Carolina before being named Hamilton's 19th president in 2003.
Stewart's 13-year tenure at Hamilton was marked by a major reinvestment in the College's physical plant: more than $250 million was spent to construct and renovate academic, residential, social and recreational facilities. At the same time, spending on student financial aid more than doubled, from $16.4 million to $36.6 million.
The College took a major step toward ensuring access in March 2010 when trustees voted unanimously to make admission decisions without considering an applicant's financial need (i.e., need-blind admission). Becoming need-blind had been a long-term goal for the College and was an objective in its 2009 Strategic Plan.
Approximately four dozen U.S. colleges and universities are need-blind in their admission decisions and meet the full demonstrated need of matriculated students; Hamilton is one of them.
Stewart has called Hamilton's need-blind decision a highlight of her 45-year career in higher education.
"I am honored to have served Hamilton during a period when the College substantially strengthened its commitment to student access and affordability," Stewart said. "Philip and I believe deeply in supporting talented young people who deserve an education. That the loyal and generous friends of our College should have established this fund moves me more than I can say."
For those interested in contributing to this fund, please visit this page.