Morgan Presents on French Women Writers
---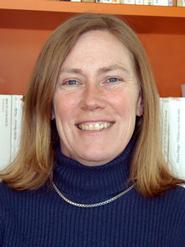 Associate Professor of French Cheryl Morgan delivered a paper on Oct. 18 at the Université de Lille as part of "La Littérature en bas-bleus (III): Romancières françaises 1870-1914," the third and final conference in a series devoted to nineteenth-century French women writers.
Morgan's paper, "Marc de Montifaud excentrique: Ecriture érotique comique," examined fiction by Amélie de Chartroule, a female writer who wrote under the male pseudonym Marc de Montifaud. An art critic, journalist and editor, Montifaud published satirical novels under the sign of Balzac and licentious tales inspired by Rabelais in the early years of the Third French Republic. Unlike her art criticism in which she advocated a modern, realist nude, Montifaud's literary works earned her prison sentences, fines and a reputation as a pornographer.
Morgan privileged the neglected yet important conjunction of comic and humorous elements with the erotic in Montifaud's fiction to argue that it participates in the late 19th-century cultural moment noted for the flourishing of modern French humor and transgression.
Morgan also spoke at the annual Nineteenth-Century French Studies Colloquium held Oct. 24-26 at the University of Richmond in partnership with William and Mary.
In "Going too Far? Marie Bonaparte-Wyse, Peripatetic 'Bohème princière'," Morgan looked at how the contemporary culture of celebrity and scandal shaped both the life and writing of Marie Bonaparte-Wyse, the black sheep great niece of Napoleon I and exiled cousin of Napoléon III, Emperor of the Second French Empire.
A novelist, journalist and travel writer, the polyglot and thrice-married Bonaparte-Wyse established residence in major European capitals and used her fiction and the press to produce and manage a self-image built on provocative paradoxes: regal and bohemian, Parisian and European, fashionable and intellectual.
Her extravagant fashions and hybrid textual styles placed her on the edge of the literary and social record of her time. Morgan offered a critical reading of this eccentric woman whose life and writing were "all over the map."