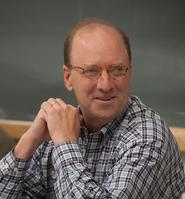 Hamilton College will name its new residence hall for alumnus and charter trustee Robert S. Morris '76, P'16, '17 and his wife Mary Helen. The couple provided the leadership gift for the $6 million transformation of Minor Theater into an expanded 10-suite, apartment-style hall, located directly across Campus Road from the Chapel.
"Residential life on campus is an integral part of the Hamilton liberal arts experience," said Morris. "Quality housing is essential." He feels the historical flavor of Hamilton's campus is also important to the college's identity. Renovation and expansion rather than demolition and new construction have ensured that authenticity, not only for Minor Theater, but for several other campus buildings. The final play staged in Minor Theater closed on April 26, 2014, and renovation work began shortly thereafter. The project is scheduled to be completed in August.
A graduate of nearby Jamesville-Dewitt High School in Dewitt, N.Y., and a recipient of the college's Volunteer of the Year award in 2003, Morris has been among the college's largest benefactors, supporting Hamilton in a multitude of ways. As a member of the Trustee Committee on Investments since 1989, he has been instrumental in guiding the college's robust endowment performance. Morris and his wife have established endowed funds to support a professorship, the Irma M. and Robert D. Morris Professor of Economics named for Robert Morris' parents and held by Derek Jones.
They have also funded the Robert S. Morris Class of 1976 Visiting Fellowship, established to bring to campus a distinguished "scholar with specific emerging topic expertise in math or the sciences in order to enhance current academic offerings" and the Scott Steven Morris '86 Internship Fund in memory of his brother to support students in summer employment. In aiding students in their career research, Morris has been generous with his time as well, playing host frequently to the Hamilton in New York program and introducing students to the world of private equity.
"Working with Rob Morris, one of Hamilton's most dedicated and discerning alumni - and certainly one of our wittiest - is a joy. Dedicating Morris House will likewise be a joy," said President Joan Hinde Stewart. "Our newest student residence will be beautiful, warm and welcoming, a superbly renovated building and a truly wonderful living space. My gratitude to Rob and Mary Helen Morris is immense."
In commenting on his support of the college, Morris observed, "I had the good fortune to get through Hamilton with loans and summer jobs. I have done relatively well professionally, and Hamilton had a formative role in helping me in that process. It is important that I give back to the institution that has supported me in developing personally and professionally.
"Hamilton provided me with an education that was perfect for me - it allowed me to become a Jack-of-all-trades who could later seek to be a master of what I chose to pursue. At Hamilton it's not the subjects you study, but the manner in which you delve analytically into a topic, that is critical. That's what served me well," said Morris, who was a pre-med chemistry major at the outset and an economics major at graduation. After earning an M.B.A. at Dartmouth and spending years in the corporate world, he founded a private equity firm, Olympus Partners, in 1988 that now has $5.5 billion in assets and for which he serves as managing partner.
Morris is deeply involved in funding the Polio Foundation and in designing neurological research projects to cure motor neuron diseases. He is also a generous supporter, board member and past chair of the Waterside School, a Stamford, Conn., pre-K through 5th grade institution focused on helping children from families with limited financial resources.
The Morris' daughter Liz is a Hamilton junior and their son, Robert, is a sophomore at the college. Their daughter Sarah is a high school junior.
An Overview of Morris House
The renovated, apartment-style building will consist of 10 suites with double and single rooms, housing 52 students. Each suite has a bathroom, kitchen and common area. A laundry facility and recycling room is on the ground floor and a large lounge is on the first floor. The second floor will include a suite for the resident advisor, and the third floor will have a storage room for residents' belongings and mechanical space. Elements of Minor Theater were saved and integrated with modernized and more energy-efficient features.
The structure was constructed in 1872 and named the Hiram Perry Smith Library. Fifty-two years later, it underwent its first renovation to become the Knox Infirmary in 1924. Almost four decades later it was transformed into Minor Theater.
Reflecting on his first visit to Minor Theater, Morris recounted, "My first entrée into Minor Theater was to see the play, 'Rosencrantz and Guildenstern are Dead.' I assume their spirits remain in the building."