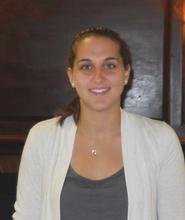 Voyeurism has been a common theme in American cinema for decades, and it manifests itself in very different ways on the screen. Filmmakers use voyeurism to develop relationships, construct obsessions, establish power dynamics and even turn the audience members themselves into voyeurs.
Danielle Mortorano '12, a recipient of a 2011 Summer Emerson Grant, is working with Professor of Religious Studies Stephenson Humphries-Brooks to analyze voyeurism in film for her project, "The Female Sex Object: The Relationship between Voyeurism and Male Dominance in Mainstream Films."
For the purposes of her project, Mortorano defines voyeurism as "obtaining pleasure through viewing someone who doesn't know that they are being viewed." Popular films such as American Beauty and Blue Velvet often feature this sort of behavior as a major plot point.
Mortorano's goal is to thoroughly examine the role of voyeurism in such films and their relation to gender roles in cinema and in society. She hopes to gain an understanding of why filmmakers sometimes rely on voyeurism and why it is so successful at selling movie tickets.
As a filmmaking technique, voyeurism serves to quickly establish relationships between characters because the audience immediately understands how the two characters relate to one another. This sort of technique also serves to portray characters in a certain light. Mortorano explains that the film industry was originally a male-dominated field, and so the camera's lens portrayed the male gaze. As a result, female characters were frequently objectified and belittled in cinema. While this attitude is slowly changing, the male gaze is still easily apparent through voyeurism in film.
As a result, the audience's reaction to voyeurism depends strongly on how the scene is filmed. For example, in American Beauty the audience immediately senses that the protagonist's voyeurism is fundamentally wrong, but in other films the audience is made to feel sympathy toward the voyeur. These different attitudes toward the same action help shape the film's approach to gender differences.
Voyeurism can ultimately perpetuate, or defy, gender roles in society because the film's portrayal of the voyeuristic action can make all the difference in how the viewer perceives it. While some find it to be erotic, others may find it disgusting.
Mortorano has also found that voyeurism's role in a film tends to change as the female character develops. For example, some films show that the voyeur is only able to project his fantasies on a female as long as there is a certain distance between them. As a relationship develops between the characters, it becomes harder to view the female as an object of lust and pure fantasy.
Mortorano, a religious studies and psychology double major, is interested in using this project for the cultural background to her psychology thesis. She has taken several film classes at Hamilton College, including History of Film and a class on Scorsese and Coppola films. Though Mortorano's professors never failed to mention the prevalence of sexual themes in cinema, she wanted to explore this topic further and independently. This project presents her with the opportunity to prepare some research for her thesis while investigating a topic in which she is interested.
In her free time, Mortorano is the co-captain of the women's rugby team, she is learning how to play the banjo, and she enjoys running recreationally.
Voyeurism is a complex theme in cinema because it can be interpreted in so many ways. Mortorano is working make sense of this issue and come to her own conclusions through her summer research.
Danielle Mortorano is a graduate of Mount St. Dominic High School in Caldwell, New Jersey.