Muirhead and Salzillo Prints in National Exhibitions
---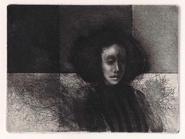 Several prints by William R. Kenan Professor of Art Bruce Muirhead and Professor of Art William Salzillo have been selected for juried, national exhibitions in Annapolis, Cincinnati and Hawaii.

Muirhead's "Wind Storm" and Salzillo's "Terminus" are currently on display at the 10th Annual American Landscapes National. The juried show opened Aug. 20 and runs through Sept. 19, at the Maryland Federation of Art's Circle Gallery in Annapolis.

"Art at the X," a juried exhibition opening on Aug. 27 at the Xavier University Art Gallery in Cincinnati, features "Knitting Mill" and "Looking Glass" by Muirhead and "Fourth of July" by Salzillo. The exhibition will be on display through Sept. 24.

Beginning Oct. 15 and running through April 21, Muirhead's "White Curtain" and Salzillo's "Fourth of July" will be shown at the 2010 Pacific States Biennial National Print Exhibition at the University of Hawaii at Hilo.