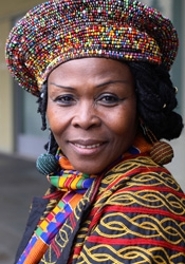 Werewere-Liking, a multidimensional artist and philanthropist from the Ivory Coast, will visit Hamilton on Nov. 19 and 20. She will hold a workshop on Hidjingo, a Ki-Yi Mbock healing dance on Wednesday, Nov. 19, at 7 p.m., in the Blood Fitness Center Dance Studio, and will give a talk, "Profession: 'Woman.' Lessons learned from grandma for action in modern times" on Thursday, Nov. 20, at 4:10 p.m., in the Kennedy Auditorium, Taylor Science Center. Both events are free and open to the public.
Werewere-Liking is a writer, singer, choreographer, painter, playwright, sculptor and filmmaker as well as creator of Ki-Yi Mbock, a traditional spiritual school of the Bassa people (Central of Cameroon). The school is for underprivileged children in Abidjan (Ivory Coast) where the Ki-Yi - equivalent to the Chinese Yin-Yang - philosophy is the backbone of all the courses.
The visit is hosted by the French Department and sponsored by the Office of the President, the Dean of Faculty office, the Kirkland Endowment, Levitt Center, Digital Humanities Initiative, Office of Diversity and Inclusion, Department of Dance and Movement Studies, Religious Studies Department, and the Comparative Literature Department.