Multimedia Journalism Forum Draws Hamilton Writers
---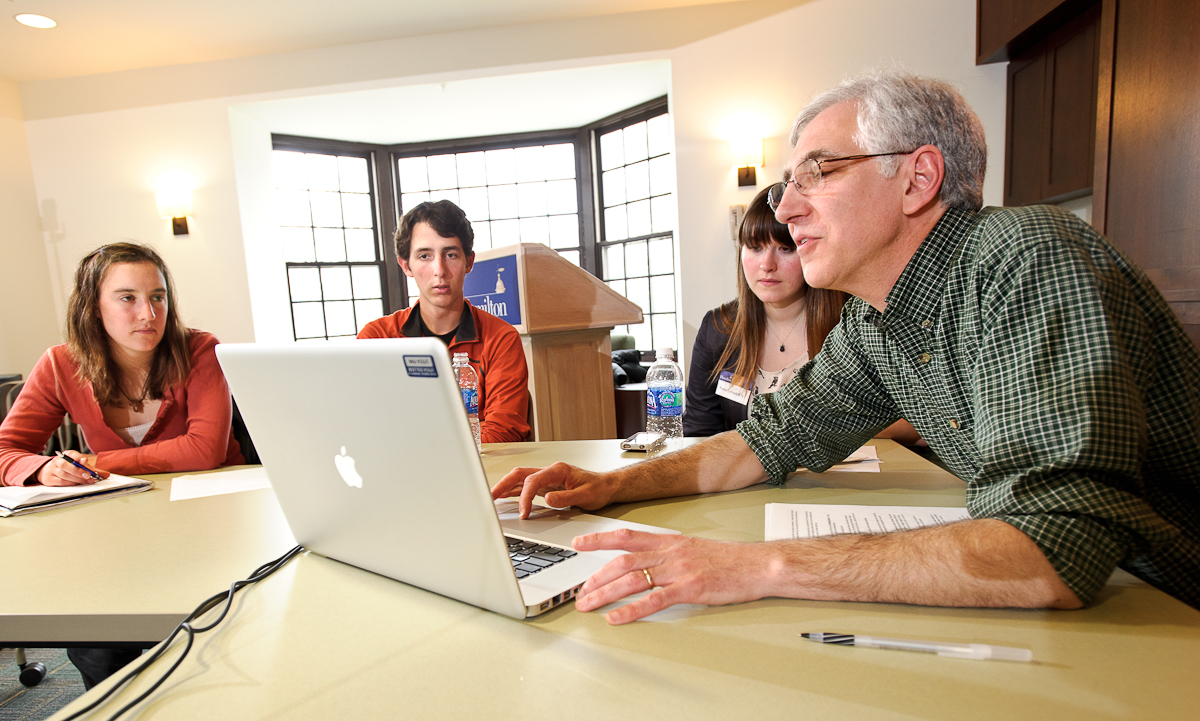 Hamilton's focus on the development of effective written and verbal skills readily applies to students pursuing careers in communications, and if the attendance at the Media Board's Multimedia Journalism Forum is any indicator, there are many such students at the College.
Alumni panelists Dave Chanatry '80, Susan Hartman K'74, Greg Thomas '85 and Steve Wulf '72, as well as Hamilton College Editor Donald Challenger, spoke before a group of hopeful Hamilton journalists in the Sadove conference room on April 15. Former Spectator Editor Allison Eck '12 and Media Board Chair Nora Grenfell '12 introduced and mediated the panel.
A history major, Dave Chanatry described himself as a "closeted pre-med student" during his time at Hamilton; he took almost all of the courses required for medical school on top of his own concentration requirements. He wasn't sure what he wanted to do post-graduation—until he took a few courses in photojournalism and discovered his passion for TV news.
Chanatry started at NBC as a page, or, in pop culture terms, "Kenneth on 30 Rock." He worked his way up to a job as a story producer at NBC News and remained there for 20 years, after which he returned to his Central New York roots and, "quite by accident, started doing public radio" as a freelancer for NPR and Public Radio International. Chanatry teaches journalism at Utica College.
Sitting in Sadove Conference Room brought Steve Wulf back to his days on the Hill, when he was a member of Emerson Literary Society (ELS). The space once housed ELS' dining room, where Wulf worked as a dishwasher. The room, Wulf said, "reminds me of my chapped hands."
When he left Hamilton, Wulf "drove all over New England and New York looking for a newspaper job." He was determined to become a sports writer and found his first job at the Norwich Evening Sun. The editor who hired him predicted his career path to a T: he'd be at the Evening Sun for a year, then he'd move to Florida, where all the newspaper sports writing jobs were, and in five years' time, he'd be working at Sports Illustrated. From there, he moved on to work for ESPN The Magazine and ESPN Books.
Though sports writing is definitely his niche and his passion, Wulf says that his years at Time, during which he was able to cover a wider variety of news topics, were the most rewarding of his career.
Susan Hartman, who was a creative writing major at Kirkland, began as a poet before she transitioned into feature writing. Her skills are, for the most part, self-taught. From "deboning the Times, taking features and analyzing them," Hartman discovered she had a knack for the "lyrical end of journalism." Her interest and investment in people and their stories is patently clear, both in her writing and the way she speaks about pieces she has written. Hartman's work has appeared in The New York Times, Newsday and The Christian Science Monitor.
Greg Thomas majored in public policy at Hamilton, thinking he wanted to go to law school. But as graduation approached, Thomas realized that he "didn't want to follow the tried and true path." However, if he wasn't going to become a lawyer, he needed to figure out what he was going to do.
"I spent a semester at Columbia during my senior year," Thomas said. "Using their Career Center—which is something I probably should have done while I was at Hamilton—I found a job working for a group called the Center for Public Health Communication."
Thomas, a music minor and former WHCL DJ, transitioned into jazz writing when he started working for Urban Profile. Currently, he is a music columnist for the New York Daily News and the host of the WVOX show Jazz Plus.
Anyone who has been on campus this year has likely seen a copy of The Alumni Review's 200 Days—College Editor Donald Challenger's baby. Challenger has been working at Hamilton since 2006, before which he spent 20 years in newspaper journalism.
His first job was as a copy editor at a paper in Delaware, after which he moved to Utica and "did time on every desk" at the Observer-Dispatch. Challenger lamented not the deterioration of the print medium in the shift toward a digital world so much as the loss of newsroom culture.
The panelists addressed the fact that Hamilton lacks a concentration in journalism. As Challenger put it, a broad academic background makes you a "generalist," which is helpful to a reporter who won't necessarily be specializing early in his or her career.
Thomas added that "having Hamilton College on your resume" defines an applicant as a strong writer and speaker.
Before breaking into workshops, the panelists talked about what makes a great clip.
"A really good lead is the quickest way to catch anyone's attention," said Wulf.
"A great idea that's beautifully written," added Hartman. "And great design is always a plus."
Challenger advised students to use quotes carefully and consciously. He also recommended sending out a variety of clips that display a wide range of abilities.
Toward the end of the forum, Jack Cartwright '15 noted that it's "almost a good thing" that Hamilton doesn't have a journalism program. Every student here graduates with a rich academic background, strong writing skills and, more often than not, a passion—all of which are essential to becoming a great journalist.