Murtaugh Has Solo Exhibition at Delaware Center for Contemporary Art
---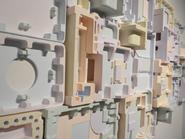 Associate Professor of Art Rebecca Murtaugh has a solo exhibition at the Delaware Center for Contemporary Art. The show opened on March 2 and runs until May 20. Titled "Intimate Constructions," the exhibit questions notions of value and beauty while re-purposing Styrofoam packaging painted vividly with discarded house paints.
The exhibition seeks to create a sense of ethereality while placing the viewer in a position to question scale, the nature of structures and materials, and our place within our environment. This exhibition is part of SUPERstructure, a spring series at the Delaware Center for Contemporary Art.
Murtaugh will give an artist talk on Thursday, April 12, for the Art Salad lunch lecture series.
"SUPERstructure serves as the larger theme for seven individual but interrelated DCCA exhibitions taking place in Spring 2012. The symposium presents interdisciplinary scholarship and examine artistic/architectural practice as a platform for discussion of the built environment, including the urban and domestic, the environmentally sustainable and unsustainable, the beautiful and repellant, and the permeable boundaries between design, craft, and fine art."