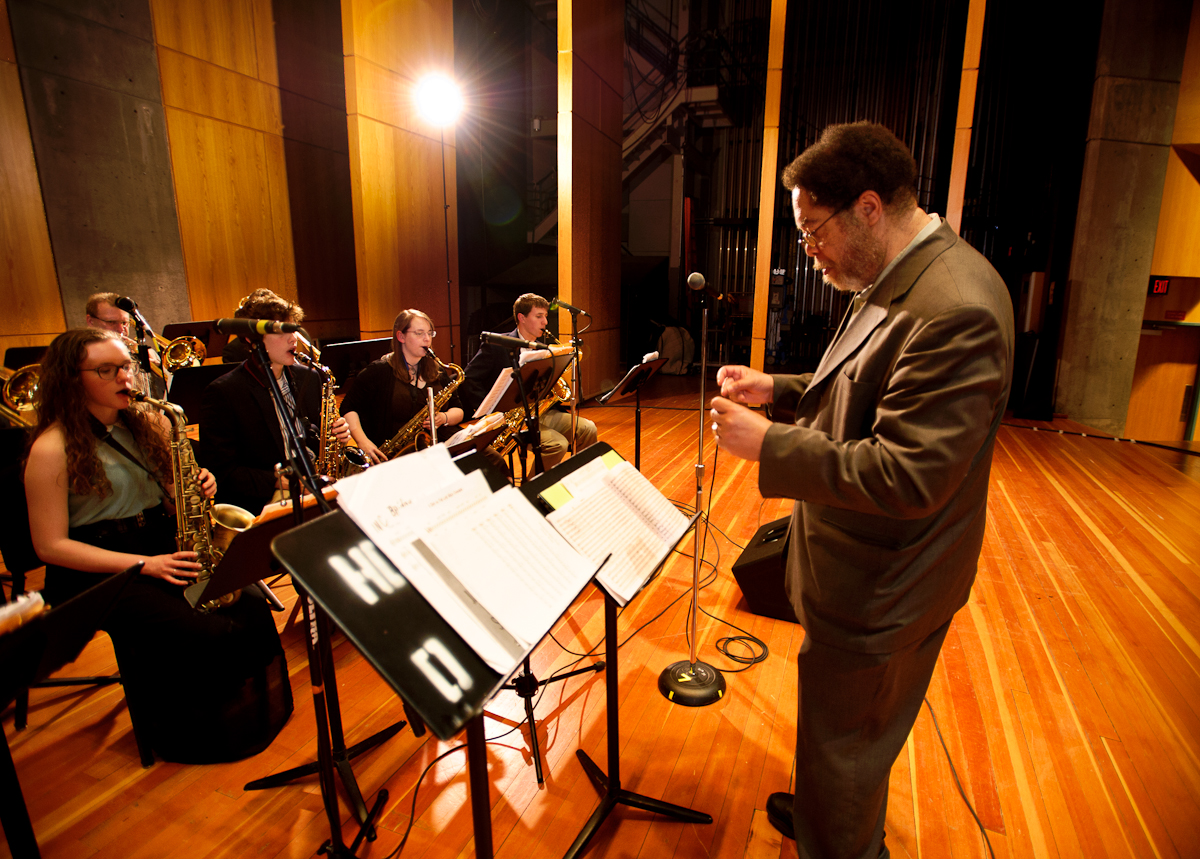 The Hamilton College Department of Music presents a variety of performances by faculty and students during the fall 2014 semester in Wellin Hall, Schambach Center for Music and the Performing Arts. All performances begin at 7:30 p.m. and are free of charge, unless otherwise noted.
The semester begins on Friday, Sept. 5, with the Fall Faculty Concert. Faculty artists from the Department of Music showcase their talents in a recital for voice, piano, brass, strings and more, including a piano piece for 40 fingers.
"Doc" Woods presents his annual Jazz Kick-Off Concert on Wednesday, Sept. 10. Funk Republic highlights brand-new funk tunes featuring local musicians Jeff Stockham, trumpet; Bob Cesari, saxophone; Angelo Candela, trombone; Tom Witkowski, piano; Chris Woods, guitar; "Doc" Woods, bass and composition; and guest artist Jakubu Griffin, drums. All seats are the on stage for a more personal experience.
The faculty series continues on Sunday, Sept. 21, at 3 p.m., with Allan Kolsky, clarinet. Accompanied by Sar-Shalom Strong, piano, and Michael Bull, snare drum, Kolsky presents Carl Nielsen's Clarinet Concerto, Op.57, Steve Reich's New York Counterpoint, and more.
Hamilton students take the stage Friday and Saturday, Oct. 10 and 11 for the 2014 Family Weekend concerts. The Hamilton College Choir and College Hill Singers perform Friday at 7:30 p.m. and Saturday at 1:30 p.m., and a program for choral song and dance while the orchestra and jazz ensemble share a program Saturday at 7:30 p.m. Heather Buchman conducts the HCO in Schubert's Symphony No. 5 and Schumann's Genoveva Overture.
Soprano Nancy B. James presents a faculty recital on Sunday, Oct. 26, at 3 p.m. Pianist Jesse Sproleand guitarist Rick Balestra, , join James for a recital including works by Duparc, Liszt, Hahn, Schubert, Tosti and Gershwin.
Samuel Pellman presents Fresh Music, from the Society for New Music on Sunday, Nov. 9, at 3 p.m. The concert includes compositions by Dexter Morrill, Samuel Pellman, Zhou Long, and Guo Wenjing for percussion, piano and other instruments, performed by Rob Bridge, Sar-Shalom Strong, and others. The program also includes the premiere of "Recursive Fury" for marimba and digital sounds by Pellman.
The students of the Hamilton College Jazz Combo present a free, informal concert in Café Opus on Tuesday, Nov. 11, at 9 p.m. Coffee and snacks will be available for purchase at the café.
December begins with the Hamilton College and Community Masterworks Chorale and Symphoria on Tuesday, Dec. 2. Conducted by G. Roberts Kolb, the Masterworks Chorale presents two pieces of desperation and hope: Johann Sebastian Bach's Cantata No. 21, Ich hatte viel Bekümmernis, and Michael Tippett's A Child of Our Time. Heavily influenced by Bach, Tippett's secular oratorio seeks a modern equivalent for Bach's chorales in African-American spirituals, which punctuate this oratorio as chorales did in Bach's cantatas and passions. Tickets are $8 for adults and $6 for senior citizens and Hamilton College community.
The Hamilton College Chamber Ensembles presents an evening of chamber pieces for strings, winds and brass on Friday, Dec. 5, and the Student Soloists Concert is Saturday, Dec. 6, at 6 p.m.
The Hamilton College Jazz Ensemble presents its Winter Concert on Tuesday, Dec. 9, with "Doc" Woods, director. The Jazz Ensemble concludes its semester with an evening of new works and jazz standards for big band and soloists.
To end the year, the Hamilton College Department of Music and Utica Dance co-produce Tchaikovsky's timeless classic ballet, Nutcracker on Saturday, Dec. 13, and Sunday, Dec. 14 at 2 p.m. and 7:30 p.m. The Hamilton College Orchestra, conducted by Heather Buchman, provides live musical accompaniment for the evening performances. In addition, Utica Dance will offer two matinee performances with recorded music. Tickets and information at www.uticadance.com. Tickets are $20 priority seating/$16 general admission/$14 Hamilton community and Utica Dance member/$5 Hamilton student.
For more information or to receive a print brochure, call the Performing Arts Box Office at 859-4331 or visit www.hamiltonpa.org.