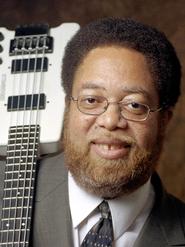 Hamilton's Department of Music will present a Black History Month jazz concert with "Doc" Woods on Wednesday, Feb. 11, at 8 p.m., in Wellin Hall, Schambach Center. The concert will feature "Doc" Woods, composition and bass; John Piazza, trumpet; Bob Cesari, saxophone; Tom Witkowski, piano; and guest artist Nasheet Waits, drums.
Drummer and music educator Nasheet Waits is a New York native. His interest in playing the drums was encouraged by his father, legendary percussionist Frederick Waits. Before pursuing a music career, he studied psychology and history at Morehouse College in Atlanta. Nasheet also holds a degree in music from Long Island University. While studying at L.I.U, instructor Michael Carvln secured Waits a spot in the percussion ensemble M'Boom, started by drummer Max Roach in 1970. Waits has recorded or performed with a myriad of talented musicians including Fred Hersch, Antonio Hart, Joe Lovano, Jason Moran and Bunky Green, among others.
Prior to the jazz concert, in a special collaboration with the Ruth and Elmer Museum of Art, Nasheet Waits will perform an interpretation of his composition created for artist Alyson Shotz's animated film The Bedroom: Time Lapse, at 7 p.m., also in Wellin Hall, Schambach Center.
The film is a work featured in Wellin Museum's current exhibition Alyson Shotz: Force of Nature. Waits collaborated with Shotz and animator Todd Akita to create the artwork. The setting for this 27-minute film is immediately recognizable as an updated version of the interior depicted in Vincent van Gogh's painting "The Bedroom" (1889). As the animation progresses, the time of day and seasons shift. The film will be screened alongside Waits' musical performance.
Both events are free and open to the public.