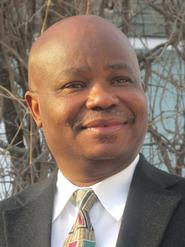 Professor of French Joseph Mwantuali presented a keynote address at a colloquium on the Democratic Republic of the Congo held Sept. 12-14 in Logan, Australia. He spoke at the invitation of Australian Conference Rally on Kongo, Inc. (ACroK), an Australia-based advocacy group.
In "Changing the rules of the game," Mwantuali analyzed "the human factor" in the Democratic Republic of the Congo's troubles. He discussed the self-destructive policies and corruption that exist in Congolese politics, concluding that "the humanitarian problem in the Congo is even more tragic and horrific in the extent that even lawmakers have decided not to see and not to speak up, worrying only about their own personal interests.
"It is a moral duty to change the colonial rules of the game, which still determine the functioning of successive regimes in Africa and in the Congo," he said.
While at the conference, Mwantuali accepted an invitation to join ACroK. In addition, he was interviewed on a French radio show where he discussed the Francophone Cultures course he teaches at Hamilton.