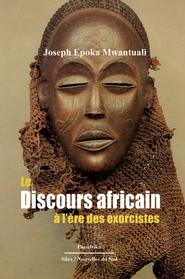 Le Discours africain à l'ère des exorcistes ("African Discourse in the Era of the Exorcists") by Professor of French Joseph Mwantuali was recently published in Paris by Panafrika/Silex/Nouvelles du Sud.
The book re-examines the contact of Africa with the West. It is based on the thesis that in order for Africa to benefit from the postcolonial "rendez-vous du donner et du recevoir," or the "give and take rendez-vous" (Léopold Senghor), it should start by dealing with the effects of mental colonization.
According to Mwantuali, "the 'Prometheus' (or 'fire stealers') that Africa sends to acquire the indispensable knowledge from the West have first to 'get fit' and 'learn to swim' in order to bring back the 'fire.' That is to say, since colonialism destroyed African identities, these incarnations of 'Prometheus' have to be culturally well-rooted in order to acquire new knowledge from new cultures."
He contends that there are two ways of going to acquire the Western knowledge: one can go as a bucket to be filled, or as a digester – "someone who processes the knowledge and brings home what is needed, just as the body does to assimilate food."
Mwantuali said he drew on "vectoral analysis to analyze a variety of literary and visual evidence to illustrate the thesis of the book. They range from L'Aventure ambiguë (Kane), Les bouts de bois de Dieu (Sembène), and Une si longue lettre (Bâ) to Un Touareg s'est marié à une Pygmée (Werewere-Liking), L'impasse (Biyaoula), and Pièces d'identités (Ngangura)."
His study reframes the debate over where contemporary francophone African literature fits into the colonial/postcolonial continuum.