My Life in a Freezer
---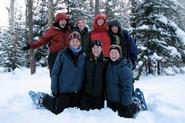 Editor's Note: As four students prepare to head out on this year's winter camping seminar in the Adirondacks, we share Hamilton Outing Club officer Kathryn Steck's '12 recollection of last year's trip. This originally appeared in Adirondack Adventurer, Hamilton Outdoor Leadership Program, a Year in Review.
"You're going camping where?!?!" was my family's incredulous response when I told them I would be heading back up The Hill a week early for a winter camping seminar in the Adirondacks. We both knew that I was about to be pushed way beyond my non-skiing, warm weather loving comfort zone. The seminar offered through HOC would be a week of camping, snow-shoeing, tele-skiing, and ice climbing.
Armed with down jackets, pants, and booties and equipped with sleds full of gear, we headed out into the Giant Mountain Wilderness Area. We learned that having proper gear (and knowing how to use it) is crucial to staying comfortable in such a frigid environment. During the day, we traveled the trails by snowshoes or teleskis. Every view from the snow-covered forests looked as if it were a scene from C.S Lewis' Chronicles of Narnia. In the evenings, we learned how to set up a camp in snow, layer appropriate clothing, build snow kitchens, backcountry cook
for the cold weather, and how to stay warm and happy.
One night, while sipping hot chocolate and enjoying each others' company, we came to a realization. Perhaps greater than the peaks we had climbed or the trails we had traversed, was the accomplishment of becoming confident enough in our skills to genuinely enjoy being outdoors in the winter.

The variation of emotions I felt before and after the trip could not have been more disparate. My anxiety gave way to exuberance as I became familiar with these new options for winter activities. This is exactly what I love about the Outing Club at Hamilton. It is a place in which I feel comfortable enough to be challenged to try new things, explore new places, and meet new people. This seminar was a unique, intensive learning opportunity in which I feel fortunate to have been involved. I know that it is trips like this one that will remain as some of my fondest memories of Hamilton.