NECC and Hamilton Have Strong Ties
---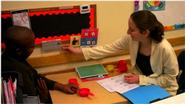 Fifteen Hamilton students and three faculty and staff members traveled to the New England Center for Children (NECC) in Southborough, Mass., on March 30. Students who had expressed interest in pursuing internships and careers at the center were invited to tour the facility and meet members of the staff.
The New England Center for Children (NECC) was founded in 1975 by Vincent Strully '69 as a school for children with autism. What started as a school with only six students on the grounds of the Taunton State Hospital has become a renowned name in the field of autism. NECC now has 230 students and more than 700 staff members. The private, nonprofit corporation has committed itself to providing children with autism and other disabilities with a state-of-the-art education and individualized treatment. Thirteen Hamilton alumni are currently employed at the center.
In addition to its Southborough campus, NECC also opened a center in Abu Dhabi in 2010. The program currently has 56 children and is slated to provide a school and residence for 100 students upon its completion by the end of 2012.
With its strong ties to Hamilton, NECC offers semester internships to Hamilton students who are interested in applied behavioral psychology and special education. Students from Western New England University, University of Mary Washington, and Massachusetts College of Liberal Arts also have the opportunity to apply for fall, spring or summer internships at the Southborough campus.
Interns participating in the Cooperative Learning Program are able to gain hands-on experience working with the students at the center. The first two-and-a-half weeks of the internship are spent participating in a new employee training program in which interns learn the basics of applied behavioral analysis, educational curriculum development, and behavior management programs for students with special needs. For the rest of the semester, interns work with three to four students while under the supervision of support staff. About 30 hours each week are spent gaining valuable experience as a student teacher.
Participants in Hamilton's Cooperative Educational Program at NECC also enroll in graduate-level courses instructed by professors from Western New England University and Simmons College, for which they receive full credit on their return to Hamilton.
Upon graduation from Hamilton, past interns will receive special consideration for employment at NECC and also receive a waiver for some graduate program requirements.
Jonathan Vaughan, the James L. Ferguson Professor of Psychology and liaison between Hamilton and NECC, has seen many of his students spend semesters at the center. He described the transformation he sees in students who spend time there. "Students leave Hamilton and return three or four years more mature and more aware of the world around them, which is an experience that cannot be gained everywhere," he said.