Ned Walker '62 Lends Expertise to Max Currier's '10 Afghanistan Research
---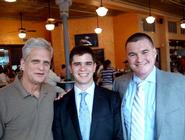 Max Currier '10 is looking for a way to increase the effectiveness of political restructuring in Afghanistan – as long as it works, and works well. He supports Provincial Reconstruction Teams (PRTs), joint civil-military teams designed to extend the Afghan Central Government from Kabul (the capital) to Afghanistan's 32 provinces. His goal this summer is to examine the role and efficacy of PRTs in Afghanistan.

His research is funded by the Levitt Research Fellows program, which provides students with the opportunity to work with professors on issues related to public affairs. Currier's advisor this summer is former Ambassador Edward S. Walker '62, the Christian A. Johnson Distinguished Professor of Global Political Theory at Hamilton, and former Assistant Secretary of State for Near Eastern Affairs. He served as the U.S. Ambassador to Israel, Egypt, and the United Arab Emirates, and is the former president of the Middle East Institute, where he is currently an adjunct scholar.

Currier feels extraordinarily honored to receive Ambassador Walker's insights and guidance. "I really appreciate that he is a scholar with a rigorous practical application to the world of real people," said Currier. "He has been my advisor since the spring of 2007 when I walked into his office as a shy, lowly freshman student with an overly ambitious research proposal on the U.S. war on terrorism. He's been willing to help with anything I've ever asked."

That includes writing cover letters to more than 30 people – a hefty undertaking. In order to learn more about PRTs and their triumphs versus their shortcomings, Currier sent letters to current and former diplomats, military officers, journalists, scholars at international policy institutions, and experts at non-governmental organizations. He asked that they speak with him either in person or by e-mail about Afghanistan, counterinsurgency, and their thoughts about Provincial Reconstruction Teams.

Currier believes that PRTs are a pragmatic part of the U.S.-NATO coalition. He feels that the insurgency is able to shape events and desired outcomes better than the U.S.-NATO alliance can. The U.S. strategy for achieving its objectives appear undisciplined. Currier feels that enhancing existing PRTs and establishing additional PRTs should be a principal focus for a more robust and effective counterinsurgency strategy.

Through his interviews, he is studying the history, infrastructure, geographic location, and other elements of PRTs.

"PRTs will not solve all our problems in Afghanistan, but they may prove the last, best hope for achieving what should be our ultimate goal, 'sustainable stability,'" Currier noted.

So far he has conducted six interviews with prominent authorities on the subject like Hamilton graduate Matt Zeller '04 (First Lieutenant in the U.S. Army who served in Afghanistan in 2008) and Ambassador Ronald E. Neumann (U.S. Ambassador to Afghanistan, 2005-07). Aside from the privilege of meeting these respected men, Currier is able to attend policy institutions in Washington. These past few months have stunned him, but in a good way. He says he has learned a tremendous amount of theory behind U.S. foreign policy, South Asia, international relations, and the U.S. military. He also knows more about the national government, policy institutions, and international organizations that had before.

An interest in international affairs usually begins to flower early in a person's life, so that by the time college approaches, he or she is well-acquainted with political matters. Currier is no exception, but that depends on what you deem "early." His high school U. S. history teacher introduced him to politics. I started reading about the Bush administration and the war on terrorism, since those were pretty controversial at the time," he said. Now that he is at Hamilton, he is glad to be a government, rather than political science, major because political science focuses more on campaigns and elections.

Outside of taking required classes for his major, Currier is a catcher for the varsity baseball team. He has been a resident advisor and an intern at the U.S. Department of State, and will participate in Hamilton's New York City Program this fall. One reason behind going to New York City for this semester is the lively, hands-on experience it can afford.

"I've learned that there is a severe limitation to what academics and scholars can do," Currier said. "They're part of a peripheral dialogue that is not always informed by people from the inside. I would much rather be part of the government, to be part of a team charged with purpose and with actual responsibility to act rather than commenting about it afterwards."
Currier is a graduate of Fayetteville-Manlius High School.