New Edition of Isserman's America Divided Released
---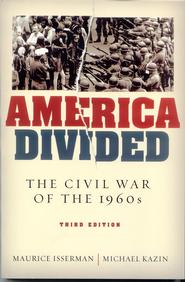 America Divided: The Civil War of the 1960s, written by Hamilton Professor of History Maurice Isserman and Georgetown Professor of History Michael Kazin, has been revised and re-released. This third edition of the book expands its interpretive survey of the political, social and cultural history of 1960s America through additional coverage of youth movements and the New Left including Latino and Asian radical movements.

The new edition also offers a deepened analysis of the emergence of feminism and added discussion of the sixties in other countries.
Chapters focused on religion and the revival of conservatism have been updated to include recent studies that underscore how broad and deep the conservative movement of the 1960s proved to be. This edition also includes new images to better illustrate the era.

In 2000, when America Divided was first published, The Washington Post included it in its list of "Best Books of 2000." The book is published by Oxford University Press.