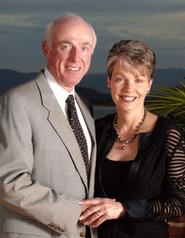 Alumnus and charter trustee Joel W. Johnson '65 and his wife Elizabeth B. Johnson have established the largest endowed professorship in the college's history with a $2.5 million gift.

The Joel W. Johnson Family Professorship will advance research and teaching in the physical sciences, especially as they pertain to the study of the environment. Income from the endowment will support the chairholder's compensation, benefits and a research program involving undergraduates.

"In establishing this chair, Joel Johnson has given expression both to his affection for Hamilton and to his interest in the environment," said president Joan Hinde Stewart. "Environmental studies is a relatively new interdisciplinary program at Hamilton. This professorship will strengthen that program at a time when the college is already investing significantly in its science offerings."

Hamilton's environmental studies program explores complex connections between the environment and human life and culture through an interdisciplinary program. Students majoring in this program select a specific track to follow in the humanities, social sciences or natural sciences. Faculty members in biology, geosciences, government, economics, anthropology, philosophy and English, among others, contribute to this program, but the Johnson Family chairholder must be a faculty member in one of the physical science departments.

Stewart said the college plans to name the first Johnson Professor within the next several weeks.

In discussing his gift to the college Johnson said, "It is essential that we listen to nature and follow the dictates of pure science. Only then can we fully apply the constructive creative genius of mankind to sustain and improve our environment for future generations."

Johnson recently retired as chief executive officer and chairman of the board of Hormel Foods Corporation following a 40-year career in the food industry. He served as chairman of the American Meat Institute and received its Industry Advancement Award for 2004. He has also received the National Leadership Award of the Anti-Defamation League. Earlier in his career, he served as a captain in the United States Army and was awarded a Bronze Star in Vietnam.

In addition to earning a bachelor's degree in economics from Hamilton in 1965, Johnson received an MBA from Harvard University in 1967. He currently serves on several corporate boards and the Hamilton board of trustees, where he is chair of the budget and finance committee.

He and his wife have three grown children, including Katherine Johnson Potter, a 1993 Hamilton graduate, whose husband James M. Potter is a 1992 alumnus. Mr. Johnson's parents, Henry W. and Dorothy N. Johnson, were also generous supporters of Hamilton College.