New York Academy of Art Features Work by Gant and Kuharic
---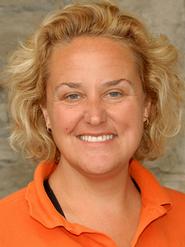 The exhibition "Private (dis) play" featuring the sketchbooks of contemporary artists Julie Hefferman, Vincent Desidirio, Kurt Kauper, Mira Schor, Tom Knechtel, Catherine Hower, and Hamilton professors Ella Gant and Katharine Kuharic opens at the New York Academy of Art on Tuesday, Jan. 26, in New York City.

Kuharic co-curated this exhibition which originated in St. Louis, Mo., at the Contemporary Center for Art and traveled to the Emerson Gallery at Hamilton. Kuharic will be a visiting critic for graduate students at the Academy in February.

An essay on Kuharic's artwork is included in a recently published book, Blind Handshake, by David Humphrey (Periscope Publishing, Dec. 09).

Kuharic's work is currently traveling to the Portsmouth Museum of Art, N.H., for an exhibition titled "Sacred and Profane" and was recently exhibited with the work of Kehinde Wiley and Julie Hefferman at the Shore Institute of Contemporary Arts in Long Branch, N.J.