New York City Program Students Visit Metropolitan Museum of Art
---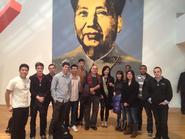 The Metropolitan Museum of Art, home to one of the largest and most renowned art collections in the world, was the destination for Hamilton's students in the New York City program last week. They were treated to a guided tour of the Impressionist, Modern and Contemporary galleries.
The Met first opened in 1870, founded by a group of American artists, academics, businessmen, and civic leaders with the purpose of creating a "national institution and gallery of art to bring art and art education to the American people." Located on Manhattan's iconic "Museum Mile," the Met boasts more than two million works of art from every corner of the planet.

The Hamilton group, accompanied by an art historian from the Met, toured several galleries of masterpieces from the 19th and 20th centuries. They admired the grace of Degas's ballerinas, uncovered the secrets behind Pollack's paint spatters, and contemplated Rothko's colored stripes in "No. 13." The Hamiltonians discussed color, composition, content and the methods by which the artist fuses these components to generate meaning on a canvas. To enhance the analysis, the historian illustrated the cultural and personal themes underpinning the paintings.

Following the tour, the students wandered throughout the museum, discovering several unique exhibitions being featured at the Met. They journeyed through generations of ancient Islamic rugs, mosaics, and wood carvings at the grand opening of "The Making of a Collection of Islamic Art at the Metropolitan." Also showcased at the Met was the 9/11 Peace Story Quilt, a creation of several New York City students aged eight to 19. The Quilt, designed by Faith Ringold, encourages "communication across cultures and religions to achieve the goal of peace."

The students completed their visit with a picture in front of Andy Warhol's larger than life portrayal of "Mao."