New York City Program Students Enjoy Satyagraha at Metropolitan Opera
---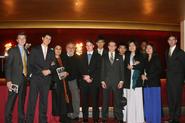 The students of Hamilton's New York City Program donned evening gowns and suits to attend a performance of Philip Glass's Satyagraha at the Metropolitan Opera on Nov. 12. A sell-out when it premiered at the Met in 2008, Satyagraha tells the story of Gandhi's early years in South Africa, where he developed his philosophy of non-violence. The Met's production has been called "a work of genius" by The Los Angeles Times.
The Met, originally founded in 1880, boasts some of the world's most brilliant and imaginative singers, dancers, conductors, choreographers, musicians and visual artists.
After indulging in an elegant meal at a local restaurant, the students gathered on the red carpet outside the Metropolitan Opera House for the performance. Inside the venue, golden railings lined the burgundy grand staircases, and stunning crystal chandeliers lit up the lobby. Everyone was dressed to impress, Hamiltonians included. The students took to their seats as the xylophones began to chime, signaling the start of the show.
Satyagraha, a Sanskrit word translated loosely as "force which is born of truth and love," was first conceived by Mahatma Gandhi during the Indian Independence Movement. Satyagraha philosophy became a driving force behind numerous demonstrations of civil disobedience, including Dr. Martin Luther King Jr.'s Civil Rights Movement.

Satyagraha chronicles the passing of several legacies of pacifism, including that of Leo Tolstoy, Rabindranath Tagore, Mahatma Gandhi and Dr. Martin Luther King Jr. The performance is the culmination of striking vocals and spectacular visual imagery. Massive, intricate puppets are constructed on stage with newspaper and tape, as aerialists float above the audience, and performers walk about on stilts.
At the conclusion of Act III, the students rose for a standing ovation. For nearly all of the Hamiltonians, it was their first visit to the Met, but likely not the last.