New York Program Students Tour Museum of Modern Art
---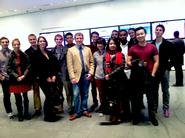 Hamilton students participating in the New York City Program took a tour of the prestigious Museum of Modern Art on Nov. 14. Located in Midtown Manhattan, MoMA was founded in 1929 by three very forward-thinking women: Abby Rockefeller, Lillie Bliss and Mary Sullivan.
Today, MoMA is known as one of the most influential modern art museums in the world. Its collection boasts more than 150,000 paintings, sculptures, drawings, photographs and design objects in addition to roughly 22,000 films, while the MoMA library contains detailed files on more than 70,000 artists. The late afternoon tour was led by Midori Yamamura, an art history Ph.D. candidate at the CUNY Graduate Center.

The tour, which began in the fourth floor galleries, featured prominent artists such as Andy Warhol, Willem De Kooning, Jackson Pollock, Mark Rothko, Jasper Johns, and Wilfredo Lam. As our guide led us through the galleries, she touched upon themes such as Minimalism, Surrealism, and Abstraction, which have all helped to continually define and shape modern art.
Some highlights of the tour included masterpieces such as De Kooning's Woman I (1950), Warhol's Gold Marilyn Monroe (1962), Johns' Target with Four Faces (1955), and Lam's The Jungle (1943). All are magnificent representations of what makes MoMA so special for New York City and the rest of the world.

Other notable highlights from the visit included Edvard Munch's The Scream (1895) and Vincent Van Gogh's The Starry Night (1889), both staples of modern art.