New York Program Students Tour U.N.
---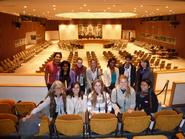 On April 12, Hamilton's New York City program group took a tour of the United Nations headquarters then received a briefing on the global HIV-AIDS crisis. The briefing tied into the program's coursework on global health and infectious agents, including a recent reading of Helen Epstein's The Invisible Cure.

The briefing, led by Peter Navario, the technical advisor of UNAIDS and former fellow in global health at the Council on Foreign Relations, covered current strategy for the global fight against AIDS. NYC program students found this particularly compelling in light of recent changes in focus for this global initiative.

The recent 2011 U.N. Declaration on AIDS breaks major ground because of its commitment to helping three high-risk groups: men who have sex with men, sex workers, and intravenous drug users. Navario acknowledged that these groups, often seen as controversial, do not usually appear in U.N. documents.

"Until you address HIV within these groups, you're not going to win the HIV fight," said Navario. Providing help to these three high-risk groups will be a crucial step in the decline of the disease. Fortunately, Navario argued, the crisis is moving in a positive direction: antiretroviral drugs are making victims less infectious and education is improving.

The fight against AIDS has redefined foreign relations altogether. The international community has come together to fight the disease in a way not seen for other global epidemics. "AIDS really put global health on the foreign policy agenda," Navario declared, "and that is no small feat."

Navario's talk was so inspiring that one student subsequently attended an open house at New York University's Robert F. Wagner Graduate School of Public Service, where Navario teaches public policy (in addition to his work with UNAIDS).

New York City program students proclaimed the visit to the U.N. one of the best program-sponsored adventures of the season.

"The U.N. was absolutely one of my favorite trips this semester," said Michelle Romano '13, whose current internship working with children with development disorders makes her particularly interested in health topics. She and other program participants expressed appreciation for the opportunity to learn about an area in which they had not previously been well-versed.

Of course, the students were especially excited to see the U.N. Security Council Chamber and the U.N. General Assembly. These impressive rooms proved an impressive backdrop for picture-taking and perhaps sparked the imagination of where we could be as adults.