New York Program Students Tour Whitney
---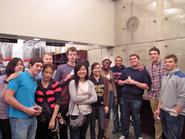 On February 24, students of the New York City Program visited the Whitney Museum of American Art. The students, together with Professor Rick Werner, received a comprehensive tour of the Collecting Biennials exhibition on the museum's fifth floor.

Collecting Biennials is a concise display of previous Biennial productions, designed to accompany the anticipated 2010 Whitney Biennial. Hamilton students caught a glimpse of pieces that made it to past Whitney Biennials, and learned about the evolution of American art. Among the works introduced to the students are Duane Hanson's 1977 life-size polymer figure of Woman with Dog, and Charles Ray's 1995 autobiographical Puzzle Botol. In addition to the guided tour, the students were granted access to preview the 2010 Whitney Biennial, that was to open the next day.

The Whitney Biennial is a biennial exhibition of contemporary American art, widely regarded as the leading show in the contemporary art scene and often featuring works of little-known artists.