New York Six to Sponsor Faculty of Color Conference at Hamilton
---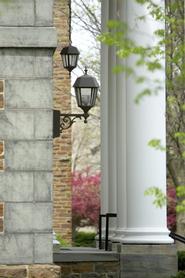 Hamilton will host a two-day conference for faculty of color on Thursday and Friday, April 11-12. Sponsored by the New York Six Liberal Arts Consortium, "Faculty of Color in the Liberal Arts College" will be attended by faculty, academic deans, administrators, and department chairs from the New York Six member institutions.
The keynote address will be presented by Elizabeth J. Aries, professor of psychology at Amherst College and co-author of the book, Speaking of Race and Class: The Student Experience at an Elite College (Temple University Press, 2012). Aries' talk is titled, "Race- and Class-based Diversity: Challenges, Educational Benefits, and Where We Go from Here."
Discussions throughout the conference will focus on ways to enhance and improve the experience of faculty of color through cross-campus collaborations.
The New York Six Liberal Arts Consortium was launched in 2009 as a cooperative venture of six Upstate New York liberal arts institutions: Colgate University, Hamilton College, Hobart and William Smith Colleges, St. Lawrence University, Skidmore College and Union College. The ultimate goal of the New York Six project is to create a more sustainable paradigm for faculty work in the modern student learning environment, one which encourages faculty creativity through appropriate definitions and measurements of faculty work, and recognition structures that acknowledge the complexity of today's academy.