New York Times Features Chambliss Interview
---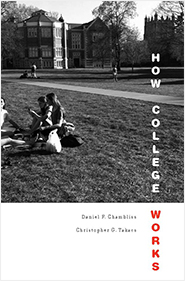 Daniel Chambliss, the Eugene M. Tobin Distinguished Professor of Sociology, was interviewed for a feature in the April 13 issue of The New York Times Education Life section titled "What Makes a Positive College Experience?" The article offered a glimpse of the extensive results from Chambliss' decade-long, Mellon-funded student study culminating in the newly published How College Works. Co-authored with Chambliss' former student and current University of Chicago doctoral student Christopher Takacs '05, the book was released by Harvard University Press in March, but the study's results have received significant attention from the national education media in the last few years.*
In the Times article, Chambliss was asked, "What's the most important element in shaping the college experience?" He responded "What really matters in college is who meets whom, and when. It's the people, not the programs, that make a difference." Echoing the book's findings, Chambliss reiterated to his interviewer, Times national education reporter Tamar Lewin, that there are many small changes that colleges can make that have profound effects on a student's experience and success.
According to Harvard University Press, "Daniel Chambliss and Christopher Takacs conclude that the limited resources of colleges and students need not diminish the undergraduate experience. How College Works reveals the surprisingly decisive role that personal relationships play in determining a student's collegiate success, and puts forward a set of small, inexpensive interventions that yield substantial improvements in educational outcomes. …the authors followed a cluster of nearly one hundred students over a span of eight years. The curricular and technological innovations beloved by administrators mattered much less than the professors and peers whom students met, especially early on. … Great teachers were more important than the topics studied, and even a small number of good friendships—two or three—made a significant difference academically as well as socially.
"For most students, college works best when it provides the daily motivation to learn, not just access to information. Improving higher education means focusing on the quality of a student's relationships with mentors and classmates, for when students form the right bonds, they make the most of their education."
As explained on the College's website dedicated to The Mellon Project for the Assessment of the Liberal Arts, "Since 1999, with major funding support from the Andrew W. Mellon Foundation, Hamilton College has undertaken a series of research initiatives in the assessment of liberal arts education. … Daniel F. Chambliss, the Eugene M. Tobin Distinguished Professor of Sociology, has headed up the Project since its inception. Some of the reports are topical, addressing specific issues in the student educational experience. Others are comprehensive, covering the range of what we learned about students' experience in college, given in chronological order from the first year through the senior year. Still others are policy reports consisting of recommendations for faculty and academic readers, based on our findings.
"In 2001, as a central component of the Mellon Assessment Project, a panel of 100 students was randomly selected from the incoming Class of 2005. Student interviewers interviewed panel members, throughout their college careers and for two years afterwards, on subjects of dorm life, friends, relationships, advising, classes, majors, professors, activities, junior year abroad, sports, and a wide range of other topics. A total of 340 interviews have been collected, transcribed, and analyzed." It is on this component of the Mellon study that How College Works focuses.



Articles that have featured research related to How College Works