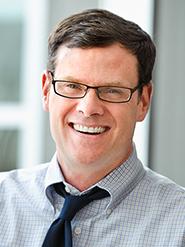 Among the many national news outlets that have reported on Republican domination of significant races in this month's general election, several have quoted James S. Sherman Professor of Government Philip Klinkner. In a Nov. 5 New Yorker column titled "Obama and the G.O.P.'s Red Sea," columnist John Cassidy referenced Klinkner's Oct. 26 essay, "The Democrats' woes are overstated," published by Vox. In the latter essay, Klinkner pointed out that it isn't unusual for the party of a two-term President to suffer electoral losses on Capitol Hill and at the local level.
Using Klinkner's statistics in Vox, The New Yorker article recounted that, "When Bill Clinton was elected, there were thirty Democratic governors across the country. When he left office, there were seventeen. When George W. Bush entered the White House, there were twenty-nine Republican governors. When he left, there were twenty-two. Judging by the number of governor's mansions it now controls, the Democratic Party isn't in worse shape now than it was in 2000." Klinkner, in Vox, added, "The only president who was able to beat this pattern of losing Senate, House and gubernatorial seats was Ronald Reagan, who, while losing Senate and House seats, did manage to pick up one governor."
In an editorial in a Nov. 7 article in the Christian Science Monitor titled "Do Democrats have a viable strategy to win back the South?," another quote from Klinkner's Vox essay was used in a concluding paragraph: "There's nothing wrong with the Democrats that losing the presidency probably won't fix." An editorial in the Chicago Tribune on Nov. 8 titled "Election results could bode ill for Democrats in 2016," included the same quote in its conclusion.
In an Oct. 26 article in the National Journal about a 2016 race titled "Tea Party Targets Rep. Richard Hanna Again After Near-Miss in 2014," Klinkner was quoted about the tactics used by the American Unity PAC, a group that supported U.S. Representative Richard Hanna (R-NY-22) in his 2014 race. In looking ahead to 2016, Klinkner suggested that if Hanna's 2014 opponent, Claudia Tenney, were to run again, "some of the more tea-party conservative groups would be more likely to give her money," knowing she could launch a viable campaign.