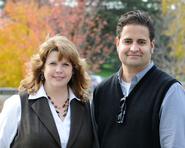 Nieves and Simons Discuss DHi at Amherst
Digital Humanities Initiative (DHi) co-directors Angel David Nieves and Janet Simons gave an invited presentation on April 28 at Amherst College. "Innovation and Sustainability in Digital Humanities" focused on collaboration among faculty, students, librarians and technologists to develop innovative approaches to digital humanities scholarship that are also sustainable models at liberal arts colleges.
In addition to highlighting many DHi research projects, Nieves and Simons presented the CLASS (Culture, Liberal Arts & Society Scholars) model for significant inclusion of undergraduates in collaborative humanities research, as well as the process DHi follows in developing digital humanities research and scholarship from a liberal arts perspective.