No. 20 field hockey cruises past Bates
---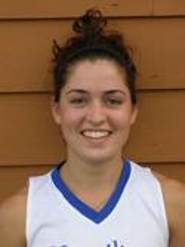 Mary Lancaster '12 scored three first-half goals to propel nationally ranked No. 20 Hamilton College to a 4-1 NESCAC win over Bates College at Bates' Campus Avenue Field on Oct. 1.

The Continentals (4-2 overall, 3-2 NESCAC) scored back-to-back goals in the fifth minute for an early 2-0 lead. Lancaster struck first on an assist by Erin McNally '12 for her fourth goal of the season, and Nikki Haskins '14 added a goal just 40 seconds later.

Riley Kundtz '13 put Bates on the scoreboard by tipping a pass from teammate Sarah Warden '14 into the circle past Hamilton goalkeeper Victoria Trentini '15 in the 12th minute. The goal was Kundtz's first of the season.

Lancaster gave Hamilton its two-goal cushion back three minutes later, using a feed from Haskins to make it 3-1. Lancaster made it a hat trick in the 24th minute with an unassisted tally past Bates goalie Becca Otley '14. Lancaster's hat trick was the first of her Hamilton career.

Hamilton held a 28-16 advantage in shots, and each team was credited with seven penalty corners. Trentini saved seven shots for the Continentals, while Otley finished with 12 saves for Bates (2-5, 1-3 NESCAC), and Warden added a defensive save. This was the first-ever meeting between the two programs.

Hamilton travels to SUNY Oneonta for a non-conference game on Tuesday, Oct. 4, at 6 p.m.