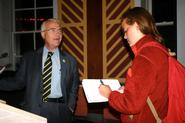 Dr. James Cobey '65 presented a lecture on ''The International Campaign to End Landmines''on Sept. 16 in the Fillius Events Barn as part of the Levitt Center Security, Sustainability, Equality Inequality Series. Cobey, who shared the Nobel Peace Prize in 1997, talked about the efforts he and others have made in pushing for the eradication of landmines across the world.

Cobey began the talk by asking the audience what they believed human rights were. He explained that human rights ensure that, "every human has value." This is the fundamental point that drives his efforts, and why he has dedicated much of his life to trying to prevent the mindless slaughter and harm that is done to innocent civilians across the globe because of the reckless placement of landmines.

His involvement with the campaign to end the implementation and existence of landmines began when he was handed a forged French passport, which allowed him to enter Cambodia decades ago. As he explained, that trip proved to be a life changing experience. "Everybody was missing a leg," he recalled. Cambodia has in particular been ravaged by the after-effects of a mass implementation of land mines, a byproduct of the decades of civil war that has gripped the region. According to Cobey, one out of 236 Cambodians is an amputee.

The constant danger that landmines create also creates a necessity for medical help, which is what drew Cobey as an orthopedist to this cause in the first place. Medical facilities in regions like Cambodia or Bangladesh where landmines are a bigger issue are often extremely substandard. This creates a situation where often the people who need medical attention the most are afforded inadequate or even non-existent medical attention. Dr. Cobey recalled situations in which he operated on landmine victims while his son used a flashlight to provide Cobey the light he needed to perform surgeries to try to save patients' lives.

Much of Dr. Cobey's recent efforts has centered on his push for U.S. ratification of what is known as the Mine Ban Treaty. As a member of Physicians for Human Rights and an active proponent for the International Campaign to Ban Landmines, Dr. Cobey shared the Nobel Peace Prize in 1997 for his work in help creating the Mine Ban Treaty.

As Cobey explained though, the work is far from done. The United States is one of 30 non-signatories of the treaty, although he ended his lecture by expressing his hope that the Obama Administration could be close to throwing its support behind the treaty, thanks to the lobbying efforts of Dr. Cobey and his colleagues. According to Dr. Cobey, the group has 68 votes in the Senate -- which is two more than the minimum needed -- lined up.

For more information about the issue, please visit www.icbl.org.