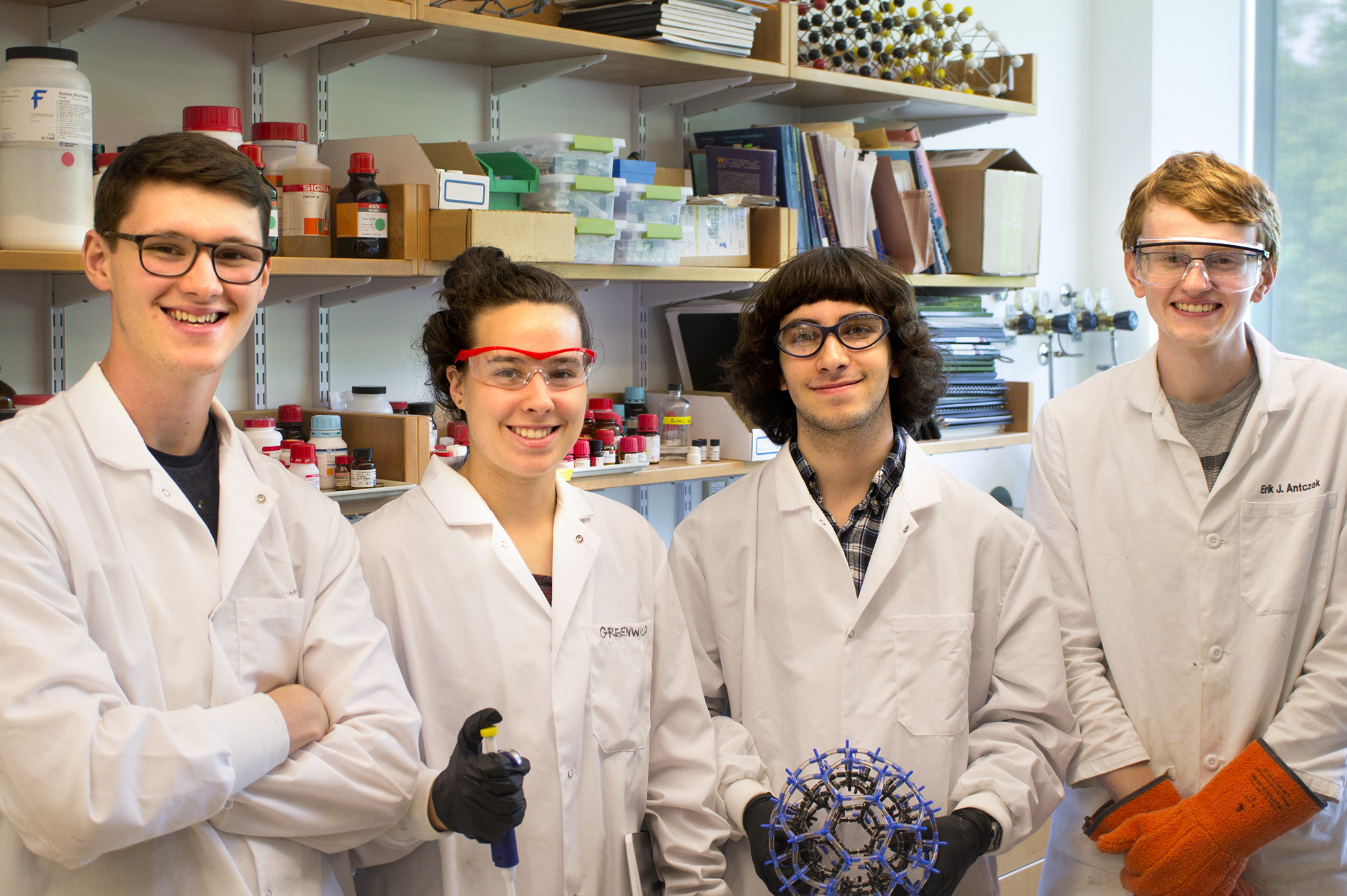 As you look at this screen, the array of colors you see is created by rare earth metals. Although the luminescence of these metals has been extensively studied, four students are working with Professor of Chemistry Karen Brewer to make the synthesization process more efficient by reducing the time, energy and funds needed to create them.
Phoebe Greenwald '16, an English major, is working individually on the luminescence of sol-gel materials produced using rare earth metals. She had never had much exposure to Europium or Terbium, two of the main metals she is studying, and because she has never taken inorganic chemistry, Greenwald was initially worried about her ability to conduct this research.
Luckily, Greenwald isn't on her own. Brewer's team consists of three other students, each of whom are working independently with rare earth metals. Erik Antczak '16, a chemistry and economics double major, is also working to synthesize and analyze these materials. Bryon Banman '16, a chemistry major, is focusing on the sol-gel lattices in these metals; while Andrew Fletcher '17, also a chemistry major, is studying these metals using ion spectroscopy.
Despite their name, these metals actually aren't that rare. Greenwald explained that "China is the most prominent exporter of these rare earths, and the metals are used in everything from TV screens to smartphones and fluorescent lighting." By combining a series of organic and inorganic reagents, a challenging process, Greenwald synthesizes an organic ligand that connects the fluorescent metals with the gel byproduct. Producing the gels takes weeks of preparation, drying, and heating before they're ready for testing, she explained.
When asked about the applications of their work, Greenwald noted that "[rare earth metals] are used in extremely powerful magnets, which are components in hard drives, catalytic converters, wind turbines, microwaves, MRI scanners, pacemakers and more." In addition, due to the different electromagnetic properties of the rare earth metals, they absorb and emit different wavelengths of light, making them a vital component in digital screens.
While uncertain of her future career path, Greenwald stated, "I do know this: no matter what I do in life, I hope to write when I have time. And the best resource a writer has is experience; the more varied the better. Scientific research and writing is an experience that I will always have in my back pocket."
Banman and Greenwald would both like to travel after graduation, and Banman plans to continue his study of chemistry in California at the graduate school level.
Antczak also plans on pursuing a career in chemistry, but sees himself as a bench chemist, using traditional tools and methods in lieu of high-tech ones. Although Fletcher, who's minoring in mathematics and physics, hasn't yet decided, he is currently entertaining the idea of becoming a chemical engineer. Banman, Antczak and Fletcher appreciate the opportunity to gain valuable, hands-on experience in their field of study, while Greenwald is enjoying pursuing one of her many interests outside of her major.
Erik Antczak is a graduate of Strath Haven High School, Wallingford, Pa.
Bryon Banman is a graduate of Aloha High School, Ore
Andrew Fletcher is a graduate of Darien High School, Conn.
Phoebe Greenwald is a graduate of the Bush School, Seattle, Wash.