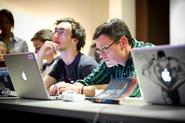 NPR Quotes Klinkner on Republican Party Strategy
Philip Klinkner, the James S. Sherman Professor of Government, was quoted extensively in a National Public Radio website article that addressed how the GOP might react going forward in light of Governor Mitt Romney's defeat. Posted hours after President Obama delivered his victory speech, "Republican Response Likely To Be Tactical, Not Transformative" appeared in NPR's It's all politics column.
"There've been predictions of a Republican civil war for as long as I've been alive, and it really hasn't happened," said Klinkner. "Part of it is that they subsume those bitter differences into organization. So whether you're a Tea Partier or you're a moderate, whatever, everybody agrees, 'We need a better fundraising apparatus.' Everybody agrees, 'We've got to have a better ground game.' So in some ways they sublimate these conflicts with a shared strategy that focuses on their organizational goals."
Klinkner also predicted that "Republicans will still focus on improving their infrastructure and improving tactics like voter targeting and improving the ground game."
Klinkner was also interviewed and included in broadcasts on Albany's public radio station WAMC, WIBX (news/talk - Utica, N.Y.) and WKTV (NBC affiliate - Utica, N.Y.)